When we looked at Halong Bay cruises, I checked checking the different activities available and kayaking was a popular one. As occasional kayakers, this would be a great opportunity to be active and discover the bay. Many of the tours lasted, however, longer than our stay, but I made sure that the Halong Bay cruise we selected offered kayaking. No way we would pass kayaking in Halong Bay!
We knew that the kayak occurred on the second so we were happily surprised when our boat stopped for an unexpected session right on our first night. We just had visited the Dau Go Grotto and headed deep into Halong Bay when we anchored by a small village. It was late in the afternoon, but we promptly changed and jumped into the kayak to make the most of the hour.
Fishing Village
As water sports fans, we loved the water. The two of us kayaking slowly by the islets and the nearby fishing village gave us the peace and quiet, taking in the fantastic view of Halong Bay. Halong Bay for real, not just a dream…
This gave us an impromptu glance at the life in Halong Bay fishing villages, and how they keep at their traditional way of life.
However, the dark of the night came down quickly, and we paddled in dim lights to return to the boat.
Thought it had been a short session, we had fun and it a good way to end our first day into the bay. More kayaking was scheduled for the next day – we could not wait for that moment.
Kayaking Luon Cave
On that second day, the boat brought us to Luon Cave, situated on Bo Hon Island. A 60 m long and 4 m wide, the particularity of that cave is its low ceiling from 2.5 to 4 meters, depending on the tide.
The tide was ebbing and the passage not yet fully practical so we swam around a boat for a while. Soon the cave started to open up and we launched our kayak through the section.
A few areas felt tight and we had to bend down on the kayak, but since it was not a long passage, we soon reached the other side. To our surprise, the island was hollow and contained a brackish water lake. Monkeys supposedly lived on high straight cliffs, but we did not get to see or hear any.
We kayaked for a while in the island lake, to check out the different sides of it and taking in the silence and scenery. As we looped back to our departure point, our guide took us through other small caves, one of them with no end so we had to paddle backward to exit.
Only one or two kayaks could go at the time, not a place you want to be crowded!
Going through the Luon Cave again, we headed back to the boat, but not before checking around the other boats and paddling in the open bay. As we left our kayaks, we thought how great a multi-day kayak trip should be. Another time, maybe. But at that instant, we were happy kayakers!
Best Time to Travel to Halong Bay
The best time to visit Halong bay from March to May (Spring) and from September to November (Fall). During these two seasons, the weather is neither too hot nor too cold, and is perfect for exploring the area.
Have you been kayaking in Halong Bay? How was your experience? Any other places to recommend for kayaking?
In the US, we did several overnight trips which are always fun. We kayaked and camped in the Everglades National Park, Florida, and in several small lakes in the Sierra Nevada Mountains in California. Or simply kayaked for the day in the San Juan Islands by Seattle, and in Baja California, Mexico. One of the challenges is to find places you can rent kayaks. We have been thinking about buying our own kayaks, and since we like to travel, we looked into inflatable kayaks for future trips. How do you organize your own kayak trips? Do you own a kayak? rent it?
If you like exploring the of Vietnam, tour Ho Chi Minh, or go on a motorbike road trip in Ha Giang in the North of Vietnam close to Sapa and the Chinese border. And if biking is your thing, check our adventure on a motorbike in Kerala, India.
Sign-up to our newsletter to receive the new posts on our adventures on our round-the-world trip!
This post contains affiliate links, which means we receive a percentage if you make a purchase using these links – at no cost to you. Our opinions are our own and are not impacted by these partnerships.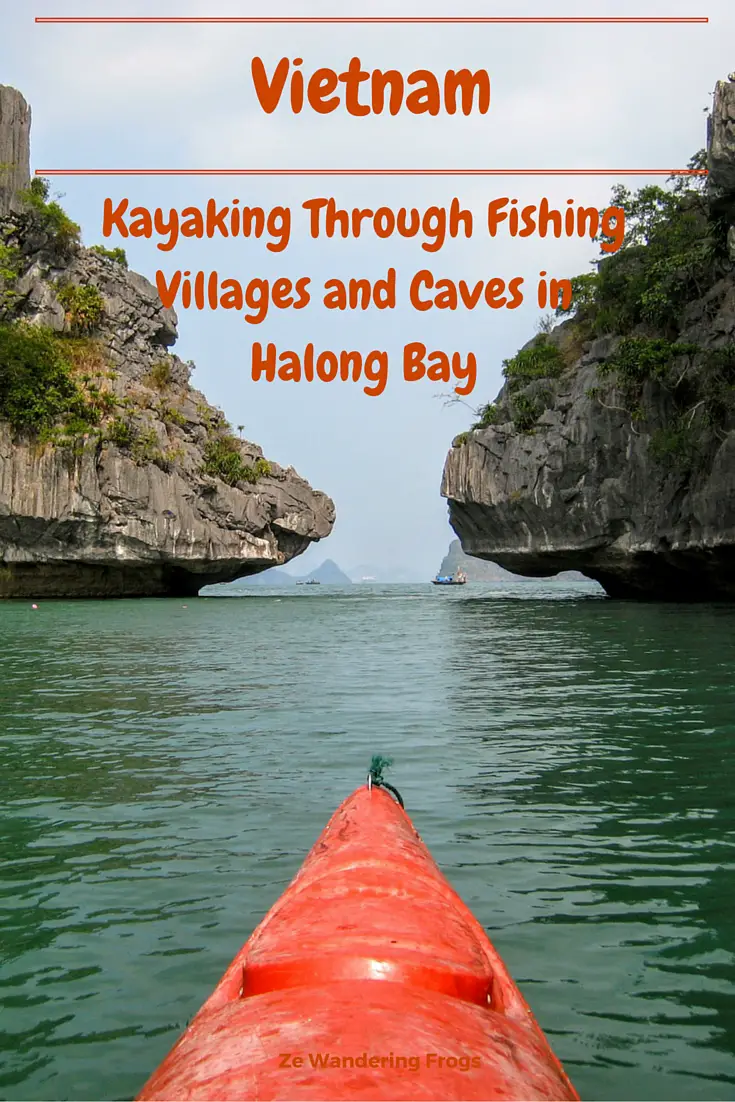 ZeWanderingFrogs.com is a participant in the Amazon Services LLC Associates Program, an affiliate advertising program designed to provide a means for sites to earn advertising fees by advertising and linking to amazon.com, amazon.co.uk, amazon.ca. Amazon and the Amazon logo are trademarks of Amazon.com, Inc. or its affiliates.
You like this article? Please share and spread the love!