The dominant gorilla male sat still, quiet, just a few feet away. His back half-turned. A feeble attempt to ignore us maybe? Or confidence in his might and reign over his surroundings? Tall and strong, he displayed the patch of grey fur symbolic to the older males, for which they gained the name of Silverback Gorillas. As we faced the older male, we barely breathed and stood like fixed statues, fascinated to be so close to the gentle beast.
Where to Find the Mountain Gorillas?
The mountain gorillas are one of the most endangered apes in the world and live high in the Virunga Mountains. Three countries share the actual region – Rwanda, Uganda, and the Democratic Republic of the Congo. After researching extensively where to best see them, Rwanda became the obvious choice. Not only Rwanda has about 480 gorillas, which is half of the world's population, but the access is relatively easier than neighboring Uganda, sometimes within the hour from the trailhead. But the experience of watching gorillas in Uganda is still a fantastic experience of course!
Of course, American zoologist Dian Fossey, and her murder in 1985 made the Volcanoes National Park famous. In addition to the primates, the park contains nine volcanoes, including six still active.
We had picked up our permits the day before in Kigali when we went to the park office in Rwanda's capital. I had been in contact with the park for about six months before our trip to secure the permit. Even with an expensive price point, the 80 daily entrance tickets are hard to come by, especially in the high season.
Meeting with our Park Rangers
Our day started early. We were at the park at 7 am, our documents in hand, and ready to meet the ranges. During a short briefing, they went over the details of our day, which group of gorilla we would meet, how to behave, and other safety information before we would be heading toward the Congo border. The park has about ten different gorilla groups and makes sure that each group gets a break from visitors, as to limit the exposure to human contact. In the same spirit of protecting the animals, the park limits hiking groups to eight persons, and each team can only stay a maximum of one hour per day. This hour might be even cut short in case the gorilla group shows any sign of distress.
We were assigned the Hirwa group formed when members of the Sabyinyo group and other groups merged in 2006. Now composed of 16 members, the name means 'the Lucky one' and bears his name well since it had twins in 2011. Hirwa group inhabits the foothills of Mt. Sabyinyo to the side of Mt Gahinga and is usually about one hour trek away. Others might require a trek of up to eight hours.
What surprised us was the presence of armed soldiers. The rangers explained these were for our and the gorillas' protection since the gorillas live close to the border with Congo and its ongoing conflicts. Troops from Congo step into the park occasionally, killing gorillas and rangers indistinctively.
Our groups headed in the jeeps, composed of 8 tourists and about the same numbers of staff comprised of rangers, trackers, and soldiers. The vehicles drove by small villages, giving us an excellent opportunity to catch views of daily life in rural Rwanda. Young kids playing by their huts, middle school kids guarding cows and goats grazing on the foothills of the Virunga Mountains, and women walking by and carrying baskets or water.
Hiking in the Volcanoes National Park
We soon reached the trailhead for our trek through thick vegetation. There was no trail per se; we merely followed the trackers and rangers into the forest of most bamboo trees. We were glad the ground was not too wet from the previous rains. It would have been otherwise slippery as we went up the gentle slopes.
Our trackers were continually checking with the other trackers to confirm the position of our group. After about one hour, the rangers motioned to slow down be quiet. You could feel the tension rising among ourselves, at the prospect of finally seeing the large primates.
Facing the Rwanda Gorillas!
Suddenly our first tracker stopped and held his hand high. We all came to a halt. He signaled us to wait while he slowly moved toward higher vegetation, pushing the leaves away to check what was behind. He quickly returned and gestured us to move forward, a big smile on his face, and pointed a finger at his mouth telling us to be quiet.  As we silently advanced to join him, we started hearing the low grunt "a-hum" typical of the gorilla males. And here they were. Within the green and lush vegetation, we spotted a spot of black fur. And then another. And another again. We had found our group!
Three females and young sat and ate just a few steps away from us. The mothers did not seem to be concerned about our presence, a highly unusual behavior for mothers.  An "ahh" moment came as another mum walked by with a tiny baby in her arm, so young he was still breastfeeding.
The young, however, could not keep their eyes from us, while still playing around their mothers. One particular baby rolled over his mum's back over and over but always looking at us. Playful, interested or worried, I could not tell. He did not let go of his mum, a reassuring presence.
One of the rangers signaled us toward a patch of bamboo trees where we heard heavy rustles in the vegetation. A second later, we came face-to-face with a full-grown gorilla, the male of the group. The dominant male stood nearby, acknowledging us with rapid eye shots, but he kept his busy task of grabbing bamboo pieces and crunching them with delight. At about three times the weight of a man, his large back full of silver streaks, he sat there without concern, peaceful, powerful. The older the gorillas, the more silver would appear on their back, which gives them their names.
While we kept watching him and his group, we made sure not to look at him in the eyes, a sign of aggression in gorilla etiquette. But here and there, our eyes would meet and he would look at us, unconcerned. He carried on grabbing bamboo shoots, devouring them like cheese sticks.
Sometimes he would ignore us entirely, turning his back in a nonchalant way. Other time, he would face us with no care in the world. It was an incredible sensation, following this gentle beast that could break us as quickly as a toothpick, merely wandering about his lunch.
Close encounter with A Male Mountain Gorilla
The group progressed further up the forest slowly, the mothers moving from a shrub to another. The male did not move much, always checking on this group. Suddenly, we felt the true might of the gorilla. The powerful male jumped to his feet, rushed through our group, pushed people around like insects both forcefully and gently. Forcefully because his mind was set on going through. Gently because he could have easily knocked anyone down like chips of wood, but didn't. His goal was to access the green bamboo shoots a few yards away.
This happened in a blitz, none was luckily hurt, but we felt it was a power to reckon with. Since the behavior was not aggressive, the rangers let us stay. If the male had shown any threatening gesture, they would have us leave at once. Here, we were just standing between him and a tastier piece of bamboos, nothing personal.
Too fast we reached the allocated hour, and it was time to go. A last glance back, a last low "a-hum". So precious. So unbelievable. We hiked back to the trailhead, and through the villages once again. We came across a local ceremony, with a gathering of women, all in more colorful dresses, preparing flowers and food in the nearby village. Our minds were however still high in the mountains, savoring these moments we had been privileged to witness. It had been one of a lifetime experience, memories to remember to this day.  
The "Kwita Iziina" Baby Gorillas Naming Ceremony
Every year, the Volcanoes National Park hosts a special ceremony to name the new baby gorillas recently born.
The name "Kwita Izina" comes from centuries-old Rwanda tradition in which a baby is given a named shortly after its birth. The ceremony is in line with the conservation effort led by Rwanda, and a way to celebrate the growing population within the park, about 12 to 25 new babies yearly.
When to Go to Rwanda Volcanoes National Park
The Volcanoes National Park is open the whole year, but it is better to visit during the dry season (December to February, and June to September) as it makes transportation and hiking more accessible. The wet season (April, May, and November) can make the hike strenuous. 
How to Secure Your Permit
Permits are limited to 80 a day, and can be hard to secure during the high season. We reserved ours directly through Rwanda Tourism  about six months before our trip, actually basing our entire trip to Rwanda and Tanzania on the dates available. The fees are expensive and even more today than during our trip, but the $750-fees has given Rwanda a strong economic reason to assure protection to the gorillas. As such, each gorilla group has a 24-hour guard watching over. 20% of these fees go to the local community development, and to encourage them to protect the gorillas.
How to Reach the Volcanoes National Park
Gorilla trekking in Rwanda can be done within a single day. Indeed, most of the tours depart from Musanze (known previously as Ruhengeri) located barely two hours away from Kigali. Regular buses reach Musanze efficiently. Or you can book through organized tours that will take care of everything for you. Whether you travel independently or through a travel agency, we suggest spending the night in Musanze as it will make your travel less chaotic and more relaxed. Plus it gives you a different perspective of Rwanda culture away from the main town.
Where to Stay & Eat in Musanze
Musanze offers several lodging options, from guest houses to deluxe and luxury accommodations, as well as a variety of restaurants.
We spent a night at the budget Kinigi Guest House and stayed in two of round African huts. Accommodations were spotless, the staff attentive, and there is a restaurant on site which provided good food at a reasonable price. The guest house is at a short distance away to the Park Headquarters, just 300 m.
Gorilla Tracking Travel Tips
Make sure to bring good hiking shoes with grips. The ground was slippery at times
Consider bringing hiking poles to help you on the rough part of the terrain
Take water with you, as the trek to find the gorillas might take a while
Don't forget to charge your camera batteries. This is not the time to run out of batteries. But make sure to shut the camera down as well, to soak in the fact you are meeting gorillas. Enjoy the moment
Bring a waterproof jacket in case the weather changes. For other clothing tips, check what to wear for gorilla trekking.
Headed to Uganda? Read about border crossing from Rwanda to Uganda
You might be interested in other posts on trekking like our 8-day Papua trek in the Baliem Valley, or wildlife encounters with the leopards in Wilpattu National Park in Sri Lanka. Sign-up for our newsletter to receive the new posts on our adventures on our round-the-world trip!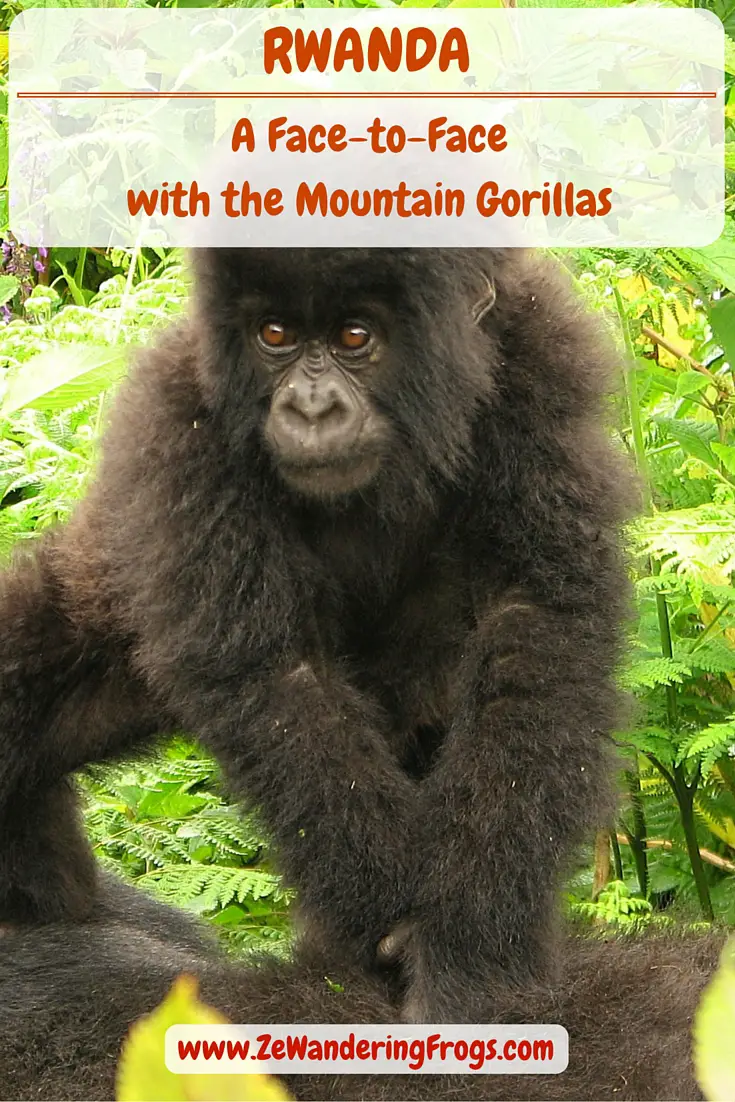 You like this article? Please share and spread the love!