We are big fans of the US National Parks and enjoyed their fantastic trail systems from Yosemite to the Everglades, and from Olympic to Mesa Verde. Can you believe that the US National Parks celebrated their 100th Anniversary in 2016? Hundred years that protected lands, forests, glaciers, and historical sites for you to enjoy! Make sure to visit one of the numerous parks, take a ranger-guided tour, and explore the great outdoors.
In the spirit of celebrating the great outdoors and to thank the US National Parks for the hard work they put that allow us to enjoy the fantastic landscapes, we would like to share the list of our preferred National Parks. The list was difficult to compile as each park is unique and offers something different, and we love them all. Here are the ones that stole our hearts, more than others and in no particular order.
Arches National Park & Canyonlands National Park
These are two separate parks, but they are so close to each other that people usually visit them during the same trip. Since they are both in a remote place of Utah, it is generally better to spend a couple of days in the area. Arches National Park is famous for its iconic Delicate Arch, but the park contains over 2,000 natural stones arches. Canyonlands National Park covers mostly canyons and buttes created by the Colorado River and other smaller rivers. The park is divided into four main sections: Island in the Sky, the Needles, the Maze, and the rivers themselves. We spent a day wandering through Arches and waited for the sunset for spectacular views of the Delicate Arch – a must-see! We camped in Canyonlands and explored the numerous canyons, the trails climbing over beautiful buttes. If you want to experience wilderness in a desert environment, these are the parks to go!
And if you are in Utah, consider checking Zion National Park and Bryce National Park as well!
North Cascades National Park
Rugged, steep, with jagged peaks, high waterfalls, and over 300 glaciers, but almost no one on the trails. That's North Cascade National Park. Also called the "American Alps," the park gets more snow and has more glaciers than any other parks outside Alaska. Given its remote location, the wildlife you might encounter in the wilderness includes moose, Canada lynx, and gray wolves. Also present are black bears and grizzly bears, though the latter is rarely seen.
Some of the best hikes we did were in the North Cascade mountain range, including the incredible Hidden Lake Trail. Tough and rough, the views from the lookout are well worth the challenging hike. The park is way less visited than Yosemite or Yellowstone, which allow for more intimate experiences away from the crowd.
Everglades National Park
The US' largest subtropical wilderness, the Everglades National Park offers critical habitat for rare and endangered species that include manatees, American crocodiles, Florida panthers, and numerous birds. Make sure to go to the Anhinga Trail, a self-guided trail where you will be able to observe alligators, turtles, anhingas, herons, egrets in their natural habitats of sawgrass marsh. The park also offers fantastic water trail opportunities for kayakers. An overnight trip to Hell's Trail gave us a great view of the mangroves and spending the night on a chickee campsite was terrific! Take one of the canoeing ranger-guided tours to paddle among alligators is priceless.
Mesa Verde National Park
Meaning "Green Table" in Spanish, Mesa Verde National Park provides a fantastic view on how the Ancestral Pueblo lived from AD 600 to 1300. With 600 cliff dwellings, the park offers ranger-guided as well as self-guided tours to admire and better understand 700 years of Native American history. From the Cliff Palace, Mesa Verde's largest cliff dwelling, to the best-preserved Spruce Tree House where you can descend into one of the eight kivas, to the Long House on Wetherill Mesa, and Balcony House – we went three times to this park and could not get enough!
Wrangell St. Elias National Park
Wrangell St. Elias is America's largest national park! The same size than Yellowstone, Yosemite, and Switzerland combined, the park includes tall peaks like the 18,008 ft. Mount St. Elias, 14,163 ft. Mount Wrangelllive volcano and large populations of moose and caribou. 25% of its surface is covered by glaciers like the world's largest glacier with the 75-mile long Nabesna Glacier, and North America's largest piedmont glacier with Malaspina Glacier. This remote park was superb, and we did our first glacier hike on Root Glacier, thought the best way to admire its wonders is with a flightseeing plane, to get a glance at the extensive mountain ranges. Make sure to visit the old Kennicott Mines, a fascinating building full of history.
Yellowstone National Park
Yellowstone National Park is unique – from active volcanic displays through hot springs, mud pots, and geysers, to tall mountains, thick forests, and deep lakes, and fantastic wildlife with herds of bisons, packs of wolves, and both black and grizzly bears, there is so much to see that we spent a whole week and felt we just scratched the surface!
Dry Tortugas National Park
Only accessible by ferry, boat or seaplane, the Dry Tortugas National Park is composed of seven small islands located 70 miles west of Key West. There lay the 19th Century Fort Jefferson and crystal clear waters full of coral reefs and marine life. The park has little amenities, but we loved camping overnight on this remote island, as we listened to birds and watched a fantastic sunset.
Chaco Culture National Historical Park
Dated between 850 to 1250 A.D., the prominent site is a testament to the ancestral Pueblo peoples' abilities to organize and build multi-storied houses into several settlements, to what was a major cultural center. Today, the Chaco Canyon ruins can be visited through a self-guided 9-mile long Canyon Loop Drive, which includes Una Vida, Hungo Pavi, Pueblo Bonito, Chetro Ketl, Pueblo del Arroyo, and Casa Rinconada.
Glacier National Park, Montana
With long green valleys, glacier lakes and snow-covered peaks, Glacier National Park is famous for its Going-to-the-Sun Road, 700 miles of hiking trails headed to fantastic places like Two Medicine Lake, Many Glacier, Logan Pass, Grinnell Glacier via the Highline Trail. You can spend three days exploring the highlights of the park, or plan for a Glacier week-long itinerary, or even longer to further discover what the park has to offer.
Other US National Parks our friends and we loved:
If you are looking for gear tips, check our Backpacking and Trekking packing list. Or check our other posts about National Parks in the US and around the world or destinations where you can meet fantastic wildlife.
To follow our adventures on our round-the-world trip, sign-up for our newsletter and receive our latest blog posts directly in your mailbox!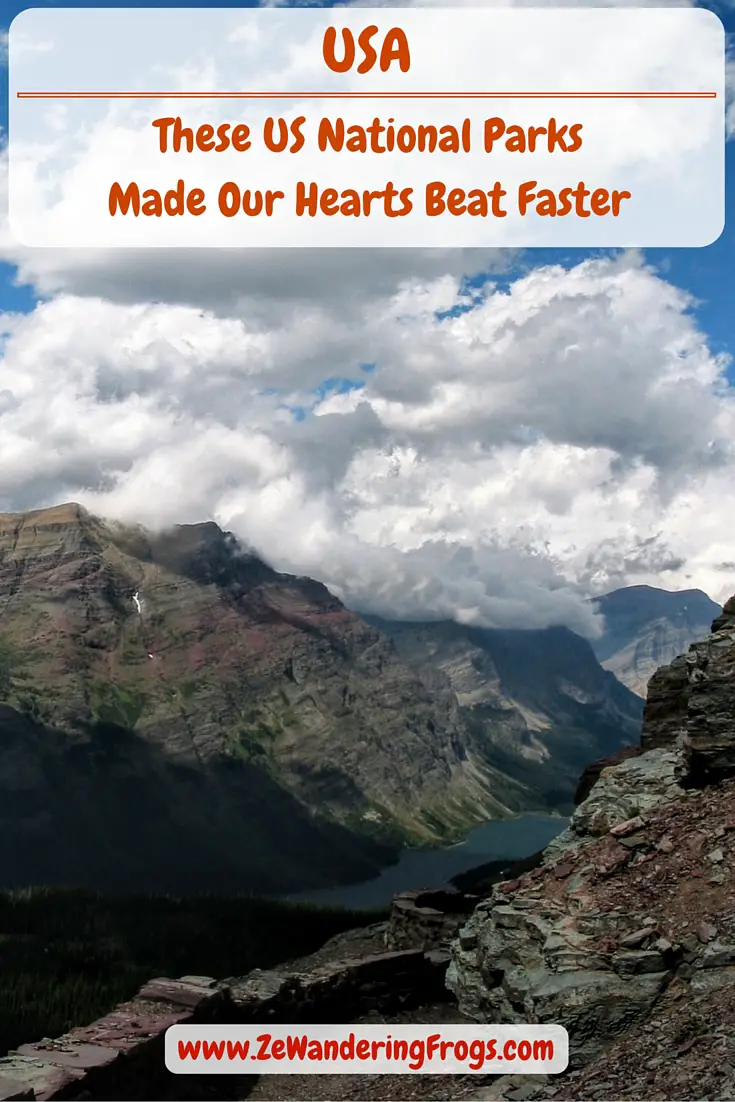 You like this article? Please share and spread the love!