Part of my 2015 resolution was to learn how to kitesurf. After years trying to improve my windsurfing skills, I finally caved into Bruno's persuasion in getting me to kiteboard. A switch he did years ago, Bruno has been now solely kiting, only windsurfing when I made it to the water.
San Francisco Bay Area has several kite spots, but most require advanced skills due to tides, strong currents, commercial tankers, rocky shoreline, cold weather and murky water. Windy – for sure, but not your tropical paradise. A couple of beginner options are available at 3rd Avenue on the Peninsula, or Crown's Beach on Alameda. But call me chicken if you want – after years of Delta conditions, I was dreaming of the Caribbean, turquoise sea and warm water… Don't give me wrong, I love the Delta, but for once, this girl was ready for a treat.
I started researching different destinations, taking into account the windy season (rather important for kiting), how far the country was, how cheap (or expensive!) the flights were, how beginner friendly the spot and local conditions would be…
Looking at several Caribbean islands, the tiny and little-known Bonaire came top of the list. A popular diving destination, Bonaire also offers constant winds that make it a great windsurf and kiteboard destination. Since the whole island is a marine park, kitesurfing is restricted to a particular area, Atlantis Beach, but thanks to its remote location, the spot is barely busy, at least not by Delta standard – a busy weekend will see ten kiters on the water, plenty space for everyone.
With off-shore wind, Atlantis Beach is primarily an advanced spot as you need to be able to go upwind and stay close to the beach. Otherwise, you might be swept away, with the next piece of land being Curaçao some 30 miles (50 km) away.
So you might ask, why would I choose this spot?
The two kiteboarding schools present on Atlantis Beach have boats always ready to rescue kiters in distress. This makes for the peace of mind as you know someone is watching over you, and for US$20 the rescue, this is a far better option than floating away! Bruno had the opportunity to enjoy the ride after he lost his kite, the leash breaking up when attempting to jump. Boats are part of the beginner packages, following each new kiter, so as you progress in your lesson, the instructor on the boat can pick you up and bring you back to the beach safely.
I took lessons from Kiteboarding Bonaire, founded and managed by Roan Jaspars & Freek Hoving, two Dutch expats and kite experts. They have a team of kiteboard instructors ready to help you out on the water in no time. Thanks to Bruno's enduring patience, I had enough land hours flying the trainer kite that they put me in the water after a short test on land.
That first lesson was on a windy day, so my instructor Joel put me on a 9m2 kite. The goal was to body-drag first, to get a feel on the water. That day, one instructor was directing the boat, with Joel dragging behind me, providing tips and corrections. I had done a few body-drags with Bruno at Crown Beach, but this was the first time in open water and not touching the ground. And that was awesome! Joel then let me body-drag by myself and had me practicing landing and launching on the water, going from 3 or 9 to 12 (refers to the angle of the kite, 12 being vertical, 3 and 9, horizontal right and left respectively).
It was liberating to have the open ocean in front of me. As scary as off-shore sounds (and believe it, I first thought – no way!), it has the definite benefit for beginners to be able to let go of the kite no matter what. No beach to hit, no swimmer to bother, no building to hurt yourself on to – just open water miles open. And it helped – a lot. Back in the Bay Area, winds are mostly onshore or side-shore, so I am always wary to hit the land or someone.
Kiteboarding Bonaire provides helmets with microphones, allowing the instructor to communicate with the student while on the water. This was a great way to improve, explaining what went wrong and how to correct posture and hand movements. The first helmet was a bit too big and kept falling on my face, just above the eyes. This made the first body-drag kind of interesting, but we were able to find a kid-sized helmet for the following sessions – fitting perfectly. Joel made sure to keep that one aside for me – excellent service!
The next session, Joel grabbed a board for me – this was getting serious… After adapting the foot-straps, off we went into the water. Trying to put the board on while keeping the kite at 12 was challenging – this was a learning curve, not to move hands if you move your head or foot. Sounds easy enough, right? Well, think again with waves pushing around and wind having a mind on its own, leading the kite left and right… The first couple of times ended up with me and the board parting our way, or the kite landing flat and hard on the water. But perseverance paid off – board on my feet, it was time to waterstart. From 12 to 1, back 12, and 2 – theory says you should be on the board sailing… It took me several repeats to finally get my lower self up and riding. YES!
That ride was memorable! Not only because it was the first one, stayed up for a while, but more especially because I was going upwind and towards the coral and beach! Not where you want to head to when you are a beginner and don't know what you are doing. The problem was, I was not paying attention to my surroundings. I was thrilled to be riding, more focused on my posture and my kite than anything else. Luckily, thanks to the microphone, Joel started shouting "let it go, let it go! NOW!". Not sure why (I was having fun!) but trusting his reason, I let it go – one of the benefits of the open sea right there. Then I realized how close I was to the coral. It could have been a different story if not for the mic and Joel's quick reaction.
But I was riding! And I was having fun. And I was not freaking out in the wide-open ocean. I was converted.
We had lighter winds during the following sessions, and I went out on a 12m and even a 15m at some points. Both took some getting-used to, especially the 15m – what a monster kite, slow to react and quite overwhelming. Some of the waterstarts saw me enjoy my first – unofficial and uncontrolled – jumps. Quite a funky feeling to be so high up in the air…
I was even doing "360 degrees" turn as I was trying to put the board on while keeping the kite at 12. I was pleased to be able to manage that level of control – most of the time anyway.
By the end of the week, I was able to waterstart on the right side and ride some. Left is still a bit of a challenge – I was facing the waves, some with a good swell as we were further out at sea. I am somewhat of a slow learner and given my fear of the ocean (I know, why do I even try water sports then?), the fact I did not run away, was on the water almost every day, and even better, had lot of fun – I can say it was a success and I was now a kitesurfer. I had walked to the dark side…
On and all, I was glad to have chosen Bonaire for my first official kite trip (previous kite trips for Bruno don't count here).
Interested to find out more about Bonaire? Check the 15 Amazing Things to Do blog for more ideas.
Bon Bini & Bon Dia Bonaire!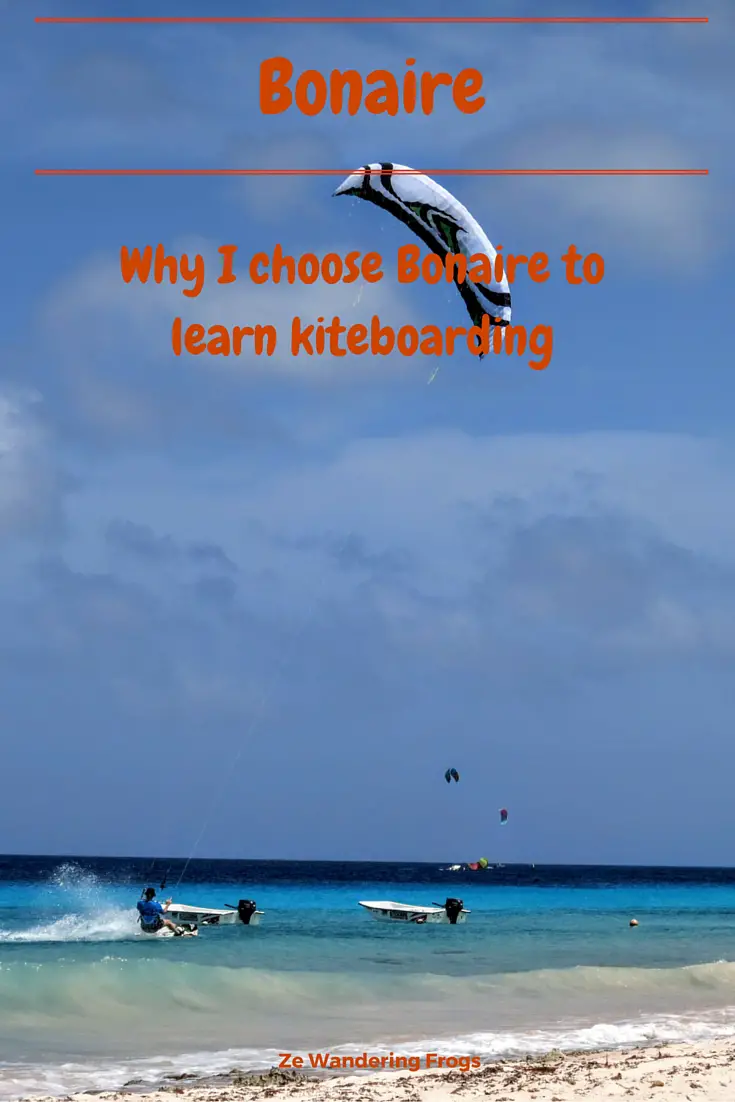 You like this article? Please share and spread the love!