After 3-week visa stress and our Pakistanese visa finally approved, we finally resumed our world trip! After flying from Europe via Riyadh on Saudia Airlines, we landed in Islamabad, the capital of Pakistan, and the start of our adventures. Since this is the start of our month-long travel in Pakistan, we spent the first days getting organized and figuring this out in what turned out to become a Travel Guide: Islamabad.
That means getting local currency, a SIM card with Data, and learning about new traditions and culture, including a new language! So we figured our experience on this first couple of days would be an Islamabad travel guide for whoever was planning on travel to the city.
Flying Saudia Airlines
A "Budget" Access to Pakistan
Flying from Paris in July was horrendously expensive, so we left from Frankfort aboard Saudia. I had to confess that we never heard of them, but I can only recommend. A relatively new plane, an economy class that doesn't squeeze you, English-speaking crew, good airplane food, and a wide selection of movies, including recent ones.
The transfer in Ryad was rather long but the airport is new, clean, and well indicated. Food stalls are open 24/7, and there are a couple of charging stations (with international plugs). We could not connect to the wifi as we never got the code via SMS.
The Riyadh-Islamabad flight was equally satisfying, and a repeat experience from the Francfort to Ryad. So overall, we can recommend Saudia Airlines if you are looking for economic flights connecting Europe and Asia.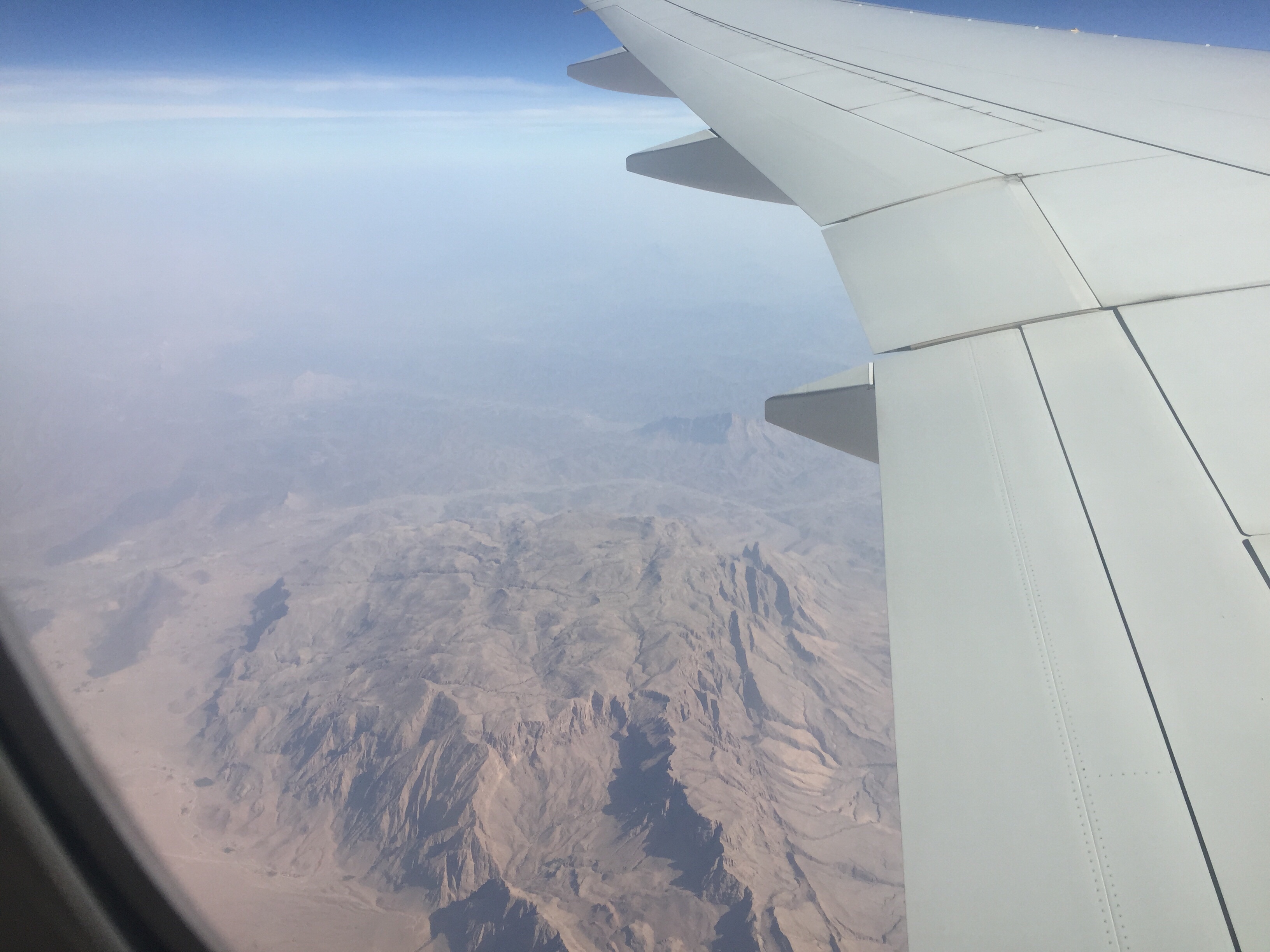 Dress Code! Conservatively Please!
Dress conservatively. Bruno wore shorts and flip-flop and almost did not make it into the plane. Luckily he had a pair of socks and used my large shawl as a sarong. Two other men in the same situation were finally allowed to board as is. The issue came from the German boarding crew in Frankfort, supposedly following the Saudi rules.
I have to say that once we were on board, be it on both flight segments or in Ryad, no one made any comment to Bruno for being in short. Now, looking back, it would have been easier to wear a pant right from the start. But the German airport crew seemed to be more bothered by his lack of proper pants than the Saudis themselves.
Travel Guide: Islamabad
See below some travel tips and how-tos on Islamabad, from arriving at the airport to retrieving cash.
Islamabad Airport
The Islamabad Airport is new as of May 2018, and the arrival process quite straightforward as we had our visa already. Once we got our luggage, we headed out to get a taxi. Though the airport is new, there is no transportation (bus or train) to Islamabad. Our hotel suggested getting a Metro Radio Cab to downtown. The good news is that the desk is right before exiting the Arrival area (while you are still in the area, before you pass the door joining the waiting). Once you mention your hotel address, you get a reservation document, and a "porter" will take you to the taxi, which you pay directly at the end of your ride.
Money in Pakistan
We tried to get money from an ATM at the airport but there is none. The option is to change money at the Money Changer. Bring large notes as you will get better rates than small notes. So for example, changes US$100 in 10 x US$10 notes was 10% less than changing a US$100 note.
There are lots of banks in Islamabad, but not many ATMs accept Visa, and only one accepted MasterCard. Don't rely on the sign that says MasterCard – no luck. So either bring a Visa card or bring lots of cash to change. Preferably US$, Euros, and British Pounds. They might accept other currencies but these are the only ones we got confirmation we could change.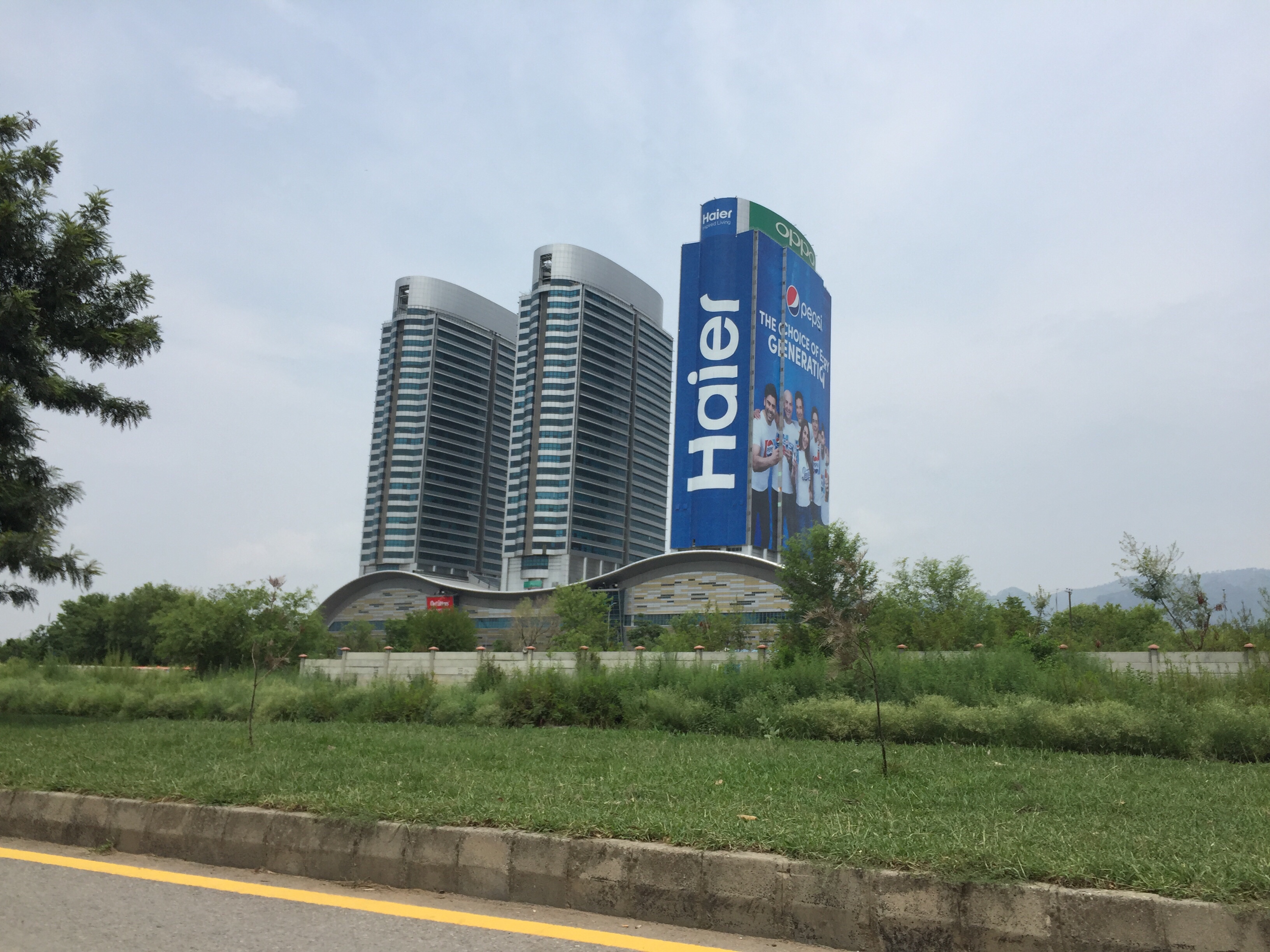 In Mongolia, we were able to get money from the bank desk agent by bringing our cards and passports. This option was a lifesaver when ATMs were not working or out of money. Unfortunately, this process doesn't exist in Pakistan. So, again, bring lots of cash, or a Visa card, though even with that card, we hear that many ATMs don't work. And in the Northern region of Pakistan, ATMs might not take Visa, so cash is a must.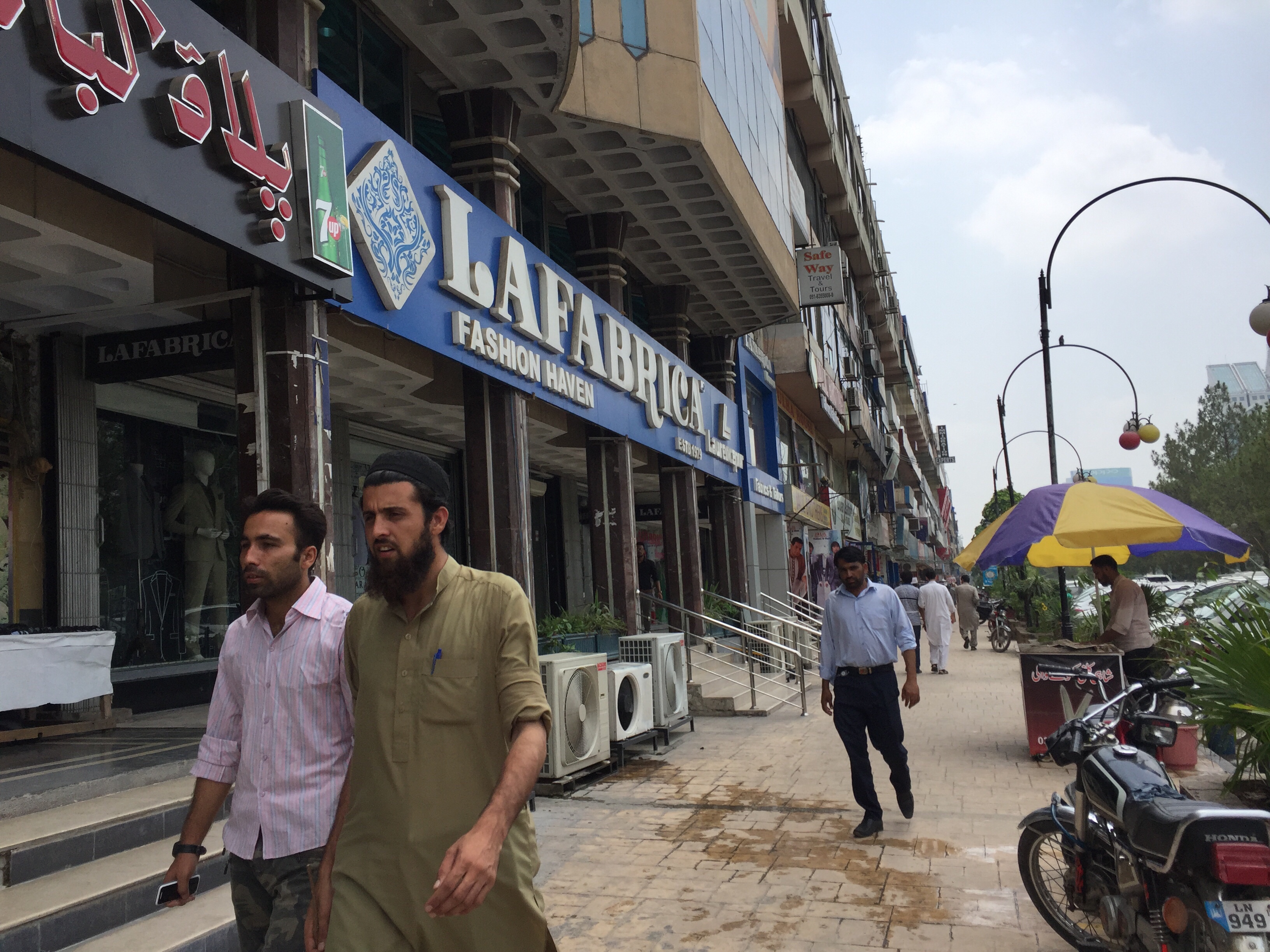 So we spent our first afternoon after our arrival and the whole morning of our second day in the Blue Area, trying to figure out the money situation. The Blue Area is a commercial area located along Khayaban-e-Quaid-e-Azam (also known as Jinnah Avenue) and has several banks and money changers.
Bank that accepted MasterCard:Standard Chartered Bank

Supposedly, according to other travelers and to Mastercard's own website, Alfalah Banks, and MCB banks would accept MasterCard credit cards, but they did not work when we tried.
Faysal Bank should be another one, but we did not try there

Banks that accepted Visa: Habib Bank worked for us

Supposedly HBL also accepts Visa, though we did not try.
According to the Visa website, Alfalah Bank, Barclays, Standard Charter, and United Bank Limited would accept Visa.
Islamabad Area
The airport is about 13 miles (20 km) from Islamabad, and the ride takes about 30 minutes to reach the city. Though the city is the capital of Pakistan, Islamabad is only the 9th-largest city of the country. Built in the 1960s, the city is designated to replace Karachi as the country's capital. And you can see today the city layout developed around eight specific zones, each with its defined goals: diplomatic, education, commercial, residential, administrative, etc. When you look at an Islamabad map, you will see the straight lines dividing the city neatly.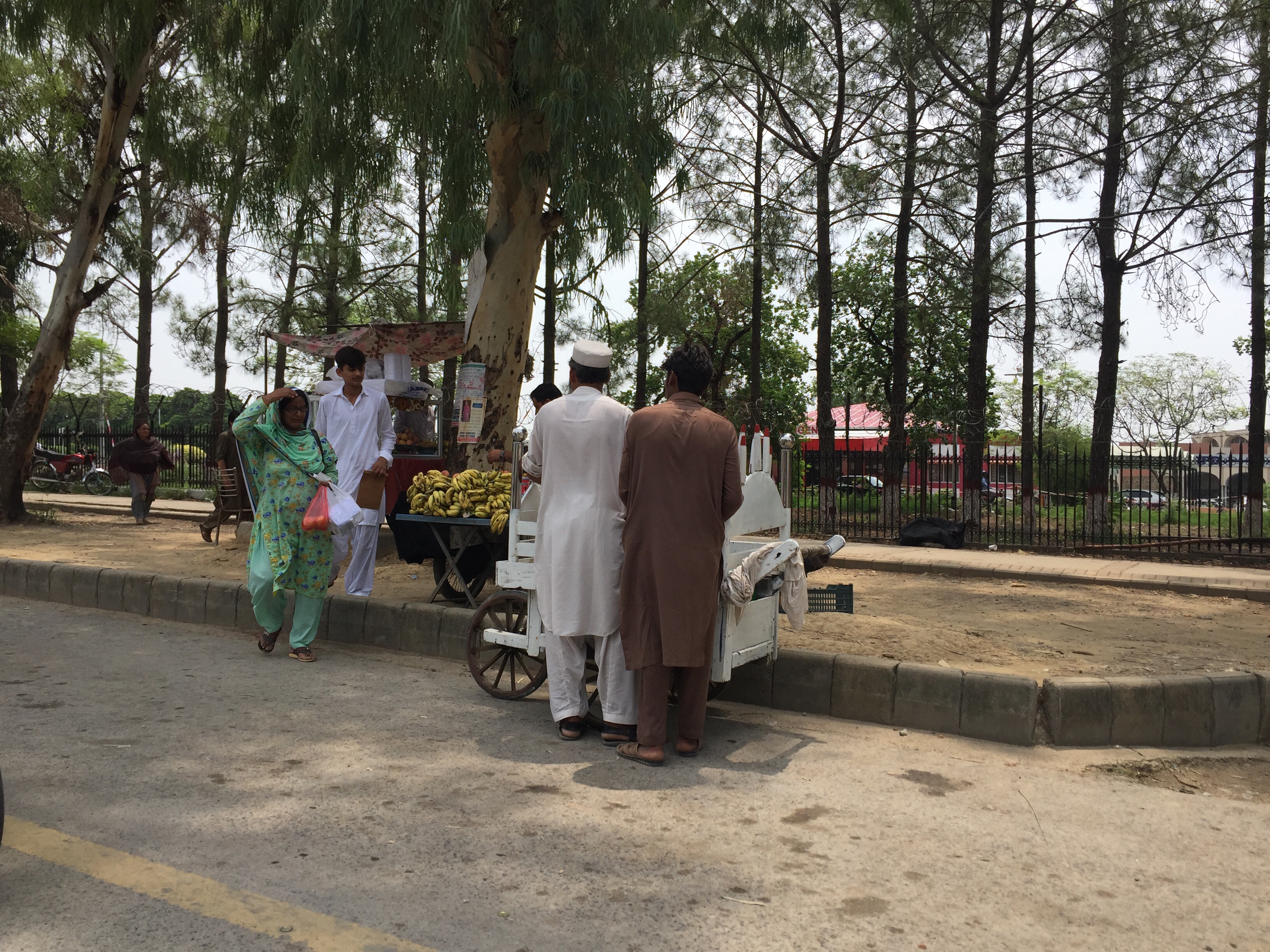 Each zone is divided into four quarters, usually surrounding a Markaz, which can be defined as a square with shops. Islamabad is quite spread out, and not easily walkable. And with almost no city buses, be ready to take one of the many taxis to move around.
Hotels in Islamabad
Most hotels are concentrate on both sides of the Fatima Jinnah Park, covering the E-11, F-10, and F-11 quarters on one end, and around G-6 to G-8, and F-6 to F-8 and including the Blue Area, on the other.
You can otherwise find a wide array of lodging, from luxury to cheap hotels in Islamabad, from the famous Serena Hotel to simple backpacker hostels.
We stayed in Jasmine Guest House in G-8 and were pleased by our stay. The hotel is sparkly clean, our room had A/C and a private shower, and the staff couldn't have been more helpful. Wifi is available, though it can be spotty at times.
Click here to check the latest price on Jasmine Guest House.
Islamabad Weather
Hot, hot, hot! I am usually not a fan of A/C but am loving it here. The city has a humid subtropical climate, and 5 seasons, including the monsoon: Winter (Nov−Feb), Spring (Mar−Apr), Summer (May−June), Monsoon (July−Aug) and Fall (Sept−Oct).
The hottest month is usually June where temperatures can reach over 100 °F (38 °C). We are here in Islamabad mid-July and the temperatures are averaging 92°F (34 °C). It hasn't been particularly sunny but definitely hot and stuffy.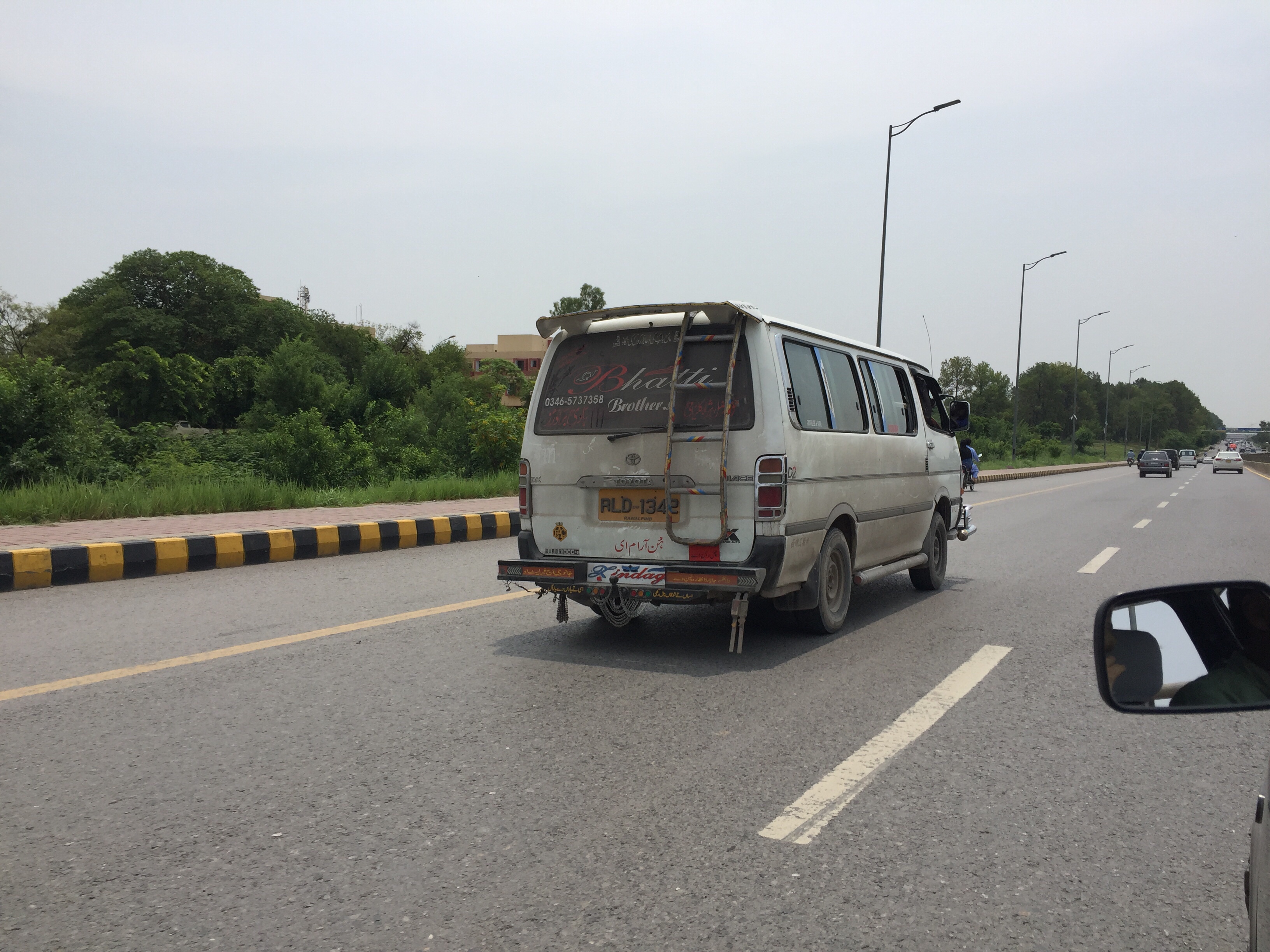 Transportation to Gilgit and Northern Pakistan
The next part of our Pakistan journey is taking us to the mountains of Northern Pakistan. For that reason, we booked tickets to Gilgit in Gilgit-Baluchistan.
Several buses do that road, from the regular buses at 1,600 pkrs per seat, to the more comfortable NATCO and Daewoo buses, which are 2,300 pkrs per person. The journey is going to take between 18 to 24 hours, depending on the road conditions. The road is going through the mountains and over high passes and is subject to landslides depending on the weather.
Several buses leave in the afternoon with NATCO: 6 pm, 7 pm, and 9 pm. The desk agent recommended us to book the 9 pm which was a better bus, though not sure better how. One thing is that is more expensive than the 6 pm or 7 pm buses. We shall see tomorrow how that goes. The NATCO terminal is in Rawalpindi, close to the Pir Wadahi bus terminal south of Islamabad.
Islamabad Dress Code
Dress conservatively, which means pants for men, and for women: pants or long skirt, lose top covering the bottom and shoulder, preferably below the elbow. While many women wear scarfs and some even cover their faces, I saw several women without a scarf or shawl. On my end, I wore a loose pant and a loose top, though I wish that top was longer. I have been searching for the traditional "Kurtis", a long loose shirt that women wear over a pant. However, I could not find my size, so I will keep looking for now.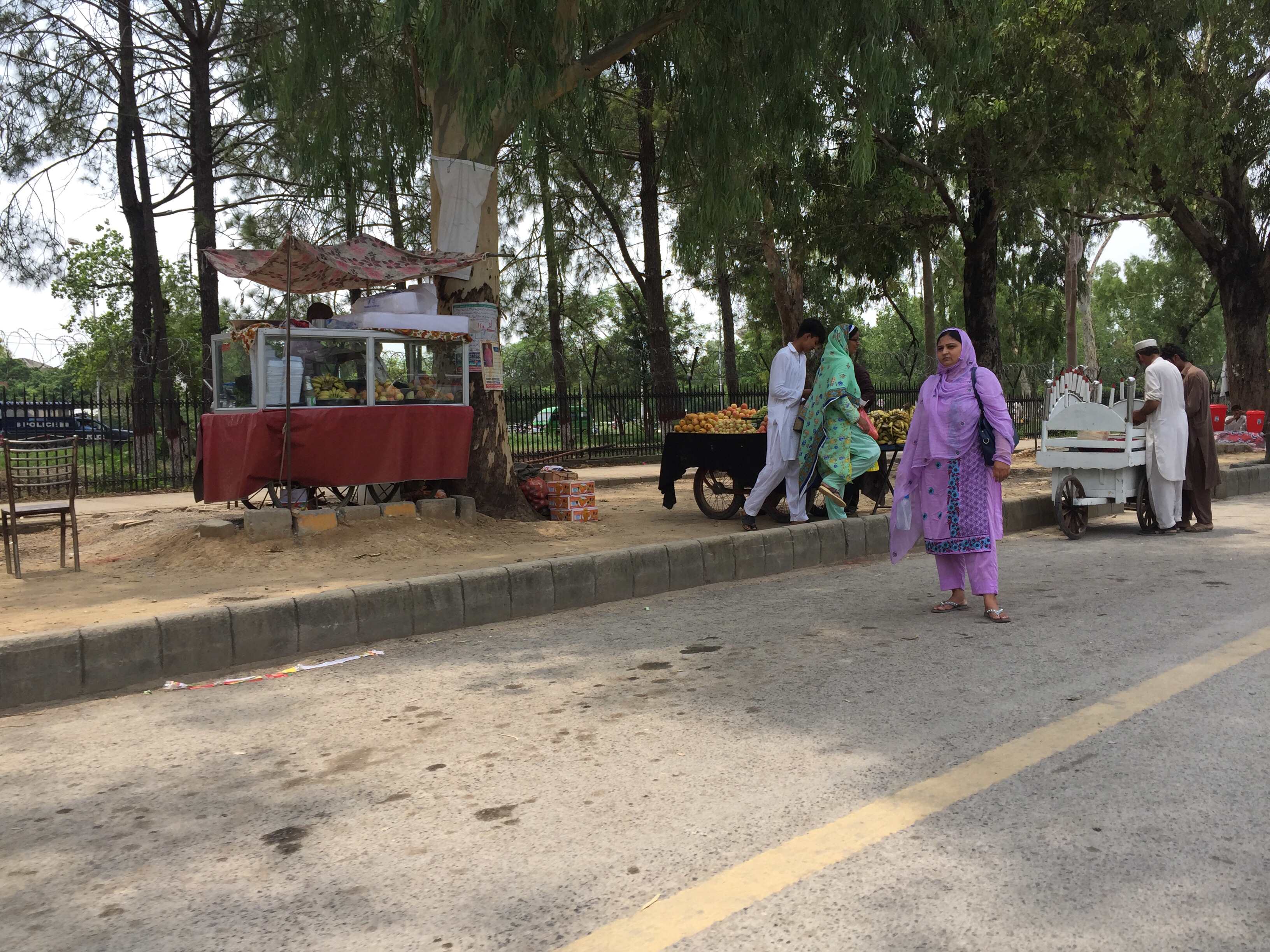 Things to Do in Islamabad
Now that we are settled with data plans and money, we can finally start exploring the places to visit in Islamabad.
Pakistan Travel Tips: Islamabad
Dress conservatively as we felt Islamabad was more conservative than Lahore or Gilgit
Bring a Visa Credit Card if you can. Or if your credit card is a Mastercard, bring plenty of cash, preferably US$ or Euros
While Islamabad is not as hype or colorful as Lahore, you can still visit for a day or two
The city is based on a planned urban development with a square grid scheme. It's not really walkable and taking a taxi to go around is the best way to travel
Due to its grid planning, business tends to stick within the same "quarter" grid. Most consulates and embassies are within one area, shopping another, residential yet another.
Many people speak English in Pakistan, and it's relatively easy to find someone to help out while shopping or looking for a taxi.
Before you leave for your trip:
Stay tuned for more adventures
from our travel around the world!
Follow us now on
Facebook, Instagram, and YouTube. 
This post contains affiliate links, which means we receive a percentage if you make a purchase using these links – at no cost to you. Our opinions are our own and are not impacted by these partnerships.
ZeWanderingFrogs.com is a participant in the Amazon Services LLC Associates Program, an affiliate advertising program designed to provide a means for sites to earn advertising fees by advertising and linking to amazon.com, amazon.co.uk, amazon.ca. Amazon and the Amazon logo are trademarks of Amazon.com, Inc. or its affiliates.
You like this article? Please share and spread the love!