One cannot to Turkish and not try Turkish Food. Beyond Turkish kebab, you are in for a treat! We visted Turkey twice, first the West from Istanbul, then a second time from the East. Fingers licking food for sure!
Doner Kebab, anyone?
Well, if you are like me, my Turkish food knowledge was quite severely limited.
Arriving in Istanbul and across our ten days in Turkey, I discovered so many different flavors I wish I could find a local Turkish store nearby and carry on splurging into savory Turkish food. While Kebab is a regular staple, you can find different meats and toppings that make each meal unique.
Kebab, Kebab Galore
Tailor your Doner kebab to your liking – lamb mostly, but also chicken, beef, and veal can be yours. Other versions of Kebab include Pilavüstü (over rice), İskender (with tomato sauce and hot butter), or a wrap known as durum.
Mouthwatering kebab you might want to try: Shish kebab (cubed onto a skewer), Adana kebab (spicy ground minced meat), Patlıcan kebab (marinated kebab meat with aubergines), Ciğer kebab (lamb livers, marinated with herbs, on a skewer)
I discovered meze, a plate served with traditional appetizers such as hummus, yogurt, olives, various types of feta cheese, cucumber salad, and dips of all kinds. This was my preferred starter, and I could do an entire meal out of it.
Turkish Delights & Sweets
Now, sweets from Turkey are world-famous – lukum or Turkish delights, raki, baklava, the journey through Turkish dessert is endless.
But if I really had to pick one thing to eat, it would be the kunefe, a cheese pastry soaked in sweet sugar-based syrup – served lukewarmly, it's melting in your mouth! And for drinks, Turkish tea made my day, and several times a day! It was smooth and slightly sweet (one could always add more!) and had no bitterness at all, a real treat all day long.
Even my coffee-lover buddy and father-in-law loved their Turkish tea! But there are so many Turkish desserts, it would take a while to try them all!
Egyptian Spice Bazaar
Egyptian Spice Bazaar, which I personally preferred over the Grand Bazaar, is a horizon of red, yellow, and orange spices that welcomes you warmly. The selection of Turkish delights, dried fruits, and sweets is endless.
We shopped on baklavas, lukums, and some hibiscus tea, giving in to small bits of these delicacies as we walked through the Bazaar. Outside, the Bazaar offers some shopping opportunities for lovely tea sets and silver decorations.
Istanbul Sightseeing & Turkish Food Tours
Most city tours will offer a chance to taste Turkish food. 
Make sure to try Turkish cuisine whenever you can!
Homecooked Meal in a Turkish Family
We finished our first day by eating at the local house, which allowed us to enjoy a home-cooked meal served by a family in their house. It was a great introduction to Turkish food, as well as taking in the famed Turkish hospitality.
From the food quality – we had meat-stuffed aubergine served with traditional meze and lentil soup, accompanied by hot tea – to the friendly and welcoming family, it was a great night to start our trip.
Fish Burgers at Eminonu Square
Returning from our Bosphorus cruise, we stopped at Eminonu Square, where we mingled with the locals and tried one of the fish sandwiches served while seated on small chairs and tables.
It was awesome to see the fish being prepared on the boat.
We sat on small tables and chairs by the side, baking under the sun and enjoying street food, not from a food truck but from a boat, Istanbul-style.
The area is very popular with locals, and it is a good place to see families, kids, or even teens hang around, sharing a yogurt or some food, and chatting the day away.
Turkish Food at the Kybele Hotel & Restaurant
We stumbled by pure chance on this lovely hotel & restaurant close to the Cagaloglu Hamman. The entrance is filled with lanterns of all colors and is a real beauty.
But keep going up, and you will arrive at a second outside level, a couple of tables nestled between the houses' walls, where you can enjoy great food and service. We had great food, the decor was really nice, and the service top notch! Definitely worth adding to your foodie list!
Rooftops
Make your way to the end of the Hippodrome for a rooftop lunch by the Blue Mosque for a memorable meal, view, and muezzin call to prayer.
Dinner on the Istiklal Caddesi will give plenty to choose from among Doner Kebab, local cafes, and rooftop restaurants, or to end up the night at one of the local Narguile shops.
Where to Stay in Istanbul?
We stayed in the Sultanahmet area, but one can stay in Beyoglu and other areas of Istanbul, depending on what you are looking for. For a traditional feel close to some of the main Istanbul attractions, we recommend the Sultanahmet. 
Want to read more about Turkey? Check our posts about Hot Air Balloon in Cappadocia, walking down history in Ephesus, hiking through the Cave Churches of the Rose Valley of Cappadocia, or watching the Whirling Dervishes Ceremony.
Sign-up for our newsletter to receive new posts on our adventures in Turkey or to follow us on our round-the-world trip!
More travel news? Sign-up for our newsletter!
 
 This post contains affiliate links, which means we receive a percentage if you make a purchase using these links – at no cost to you. Our opinions are our own and are not impacted by these partnerships.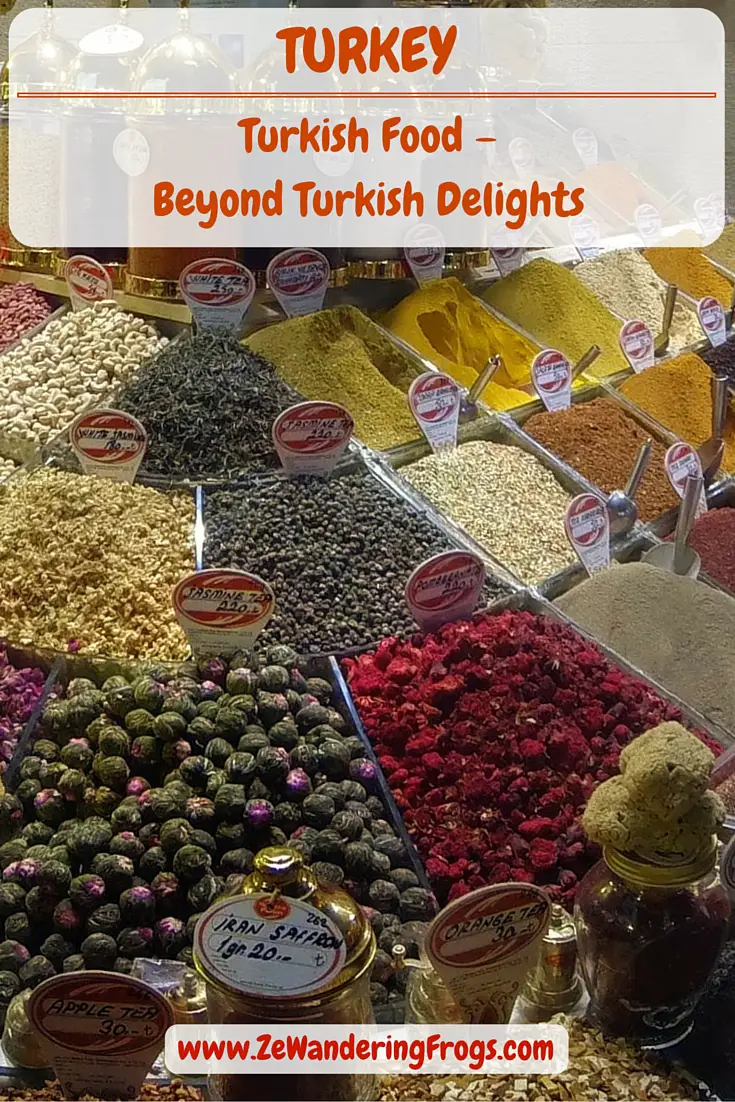 ZeWanderingFrogs.com is a participant in the Amazon Services LLC Associates Program, an affiliate advertising program designed to provide a means for sites to earn advertising fees by advertising and linking to amazon.com, amazon.co.uk, amazon.ca. Amazon and the Amazon logo are trademarks of Amazon.com, Inc. or its affiliates.
You like this article? Please share and spread the love!