Can you imagine swimming beside a 12 m (41 feet) long shark while it's on an eating spree? Well, that's what we did when we swam with the whale sharks in La Paz, Baja California. The whale sharks, known locally as the Tiburon Ballenas, are the largest fish in existence and navigate in warm water. The gentle beast is no danger to humans as it feeds on plankton. They congregate in the protected marine area north of La Paz, where diving is forbidden.
Our morning boat trip started around 9 am from La Paz marina, where we boarded a small 16-passenger boat. That day, we were a small group of 10, including our captain Luis and guide Alessandro. We were eagerly scanning the ocean as we went, trying to find the sharks. The giant fish can be tricky to spot as they don't breach as true whales do. They can only be detected when the dorsal fins rise over the ocean when they feed. Because the weather had been stormy and windy, the sea was rough with 3-feet / 1-meter waves, making it even harder to see the animals. After a bumpy 20 min ride from the pier, we reached the protected area and found other boats already in place. A good sign that the whale sharks were present.
A maximum of 6 boats per site area and eight divers per dive are allowed though most tour operators ignored these. Our boat didn't head directly to the boat cluster but instead looked for other sharks, which I liked.
Finding the Whale Sharks
We soon noted another shark and our guide Alessandro told us to be ready to jump. We stood ready, shorties, and snorkel gear. Given the rough seas, he recommended to not-so-strong swimmers to wear their life jackets. Bruno decided to forgo his jacket, but I wore mine as I am not comfortable in the water.
Per our guide's instructions, we swam up to the shark as soon as we jumped to keep up with it. Other rules required us not to approach the sharks less than 2 m (60 inches), never touch them and stay on the side. These were hard to follow due to the rough seas and the low visibility of barely 3 meters (9 feet). Even that big fish disappeared quickly into the murky water. We would see it for one second and miss it the next, only to find it close again. Swimming as fast as I could, I came close to the 4 m-shark. I was ecstatic! Sometimes slow, sometimes fast, the fish did not care about our presence and fed as it went.
Respecting the Marine Life
Several boats surrounded the sharks, preventing others from approaching. However, our captain Luis was respectful and kept away from these clusters. While we were disappointed that we did not watch more of the sharks, I truly appreciated the captain's respect for the animals and decision not to crowd the fish. Animal safety and protection came first, and I was glad of their respect even if that meant we would not get a closer view of the big animal ourselves.
As we snorkeled for the second time, we approached a bigger fish, about 7-8 m long. The bigger the fish, the faster they swim, and it was a real challenge to keep up. This time, we barely saw the tail but what a tail! Given the first shark had swum away fast, Luis told us to head back to the boat so we could search further. Before we were able to regroup with our ship, another tour company came to
Before we were able to regroup with our boat, another tour company came to pick up their customers that had joined our group in the water. As the ship approached, I tried to swim away, but I was not fast enough. Another guide from that boat was still in the water and yelled at me to move away from the boat.
I yelled back that I was trying but that they should also control their boat better. Interestingly the captain was helping customers in the boat, leaving it without guidance to go as it pleased. The guide and I entered into a yelling match. I tried my best to move away, but their lack of safety respect was frustrating. They clearly did not attempt to pay attention to other swimmers. It did not feel right. I heard Alessandro mention the boat name to Luis in an angry tone later on, which confirmed my thoughts.
Meeting A Whale Shark Up Close
Once finally aboard, the captain enquired who had or hadn't seen the animal, to make sure we all had a chance to admire them. Together with Alessandro, they searched the open sea for the third time. Our luck turned as we came across a larger fish, with no other boat in sight. We quickly jumped and had the time of our life as the fish kindly stayed close to us. He swam fast but kept turning and coming back to our enjoyment. I got the chance to view the head, wide-open mouth as it was feeding. Then the tail was again sweeping away. Then the head again… What a perfect ending on that morning! What a thrill!
We boarded back one last time before Luis headed back to La Paz. Everyone on board chatted and exchanged details of the encounter, happy snorkelers! Moreover, the ethics of our captain and guide had been a real relief: from the guide ensuring the animal's protection and snorkeler's safety to the captain respecting the distances between both animals and humans. The whale sharks we found were on smaller size, closer to 6-8 m, but the experience was fantastic nonetheless. We still felt tiny along with these huge animals!
When to Go
The whale sharks usually congregate in the Sea of Cortez between November and April, but other locations will have different timeframes.
Where to go
In Mexico, the sharks migrate to Baja California (the Sea of Cortez, in the Bay of La Paz, and Cabo de San Luca) and Yucatan (Isla Mujeres, and Isla Holbox). Around the world, the whale sharks can be found in: Belize (Gladden Spit), Honduras (Utila), Indonesia (Ujung Kulon), Madagascar (Nosy Be), South Africa (Sodwana Bay), Djibouti (Gulf of Tadjoura), Australia (Ningaloo Reef), India (Gulf of Kutch, Saurashtra Coast), Philippines (Donsol, Batangas and Southern Leyte), Indonesia (Papua Nabire Cenderawasih Bay), Mozambique (Inhambane), Zanzibar and Pemba islands in Tanzania, and Gulf of Oman (Ad Dimaniyat Islands).
If you are interested in other swimming opportunities in Mexico, our friend Rob at 2 Travel Dads shares their experience of swimming with sea turtles in Akumal in Quintana Roo, or check this complete guide to snorkeling in Cabo San Lucas. If you are headed to the Yucatan, swimming in a Cenote is a must-do, so make sure to read about these recommended Homun Cenotes.
How to Organize
We booked our tours directly through a small local company, but several companies offer half-day activities. Several whale shark cruise options will get you to the Sea of Cortez and a chance to swim with the massive beasts.
Be aware that the bad or windy weather might cancel the tour.
Have you been swimming with whale sharks in the Sea of Cortez before? Any other tips to add? Let us know! If you are in La Paz for a few days, check other top things to do, simply walk along the Malecon, or give a try at kiteboarding in La Ventana for another cool water sport. And if you are looking for other exciting marine encounters, a swim with stingrays in the Cayman Islands will definitely top of your list!
Stay tuned for more adventures
from our travel around the world!
Follow us now on
Facebook, Instagram, and YouTube. 
This post contains affiliate links, which means we receive a percentage if you make a purchase using these links – at no cost to you. Our opinions are our own and are not impacted by these partnerships.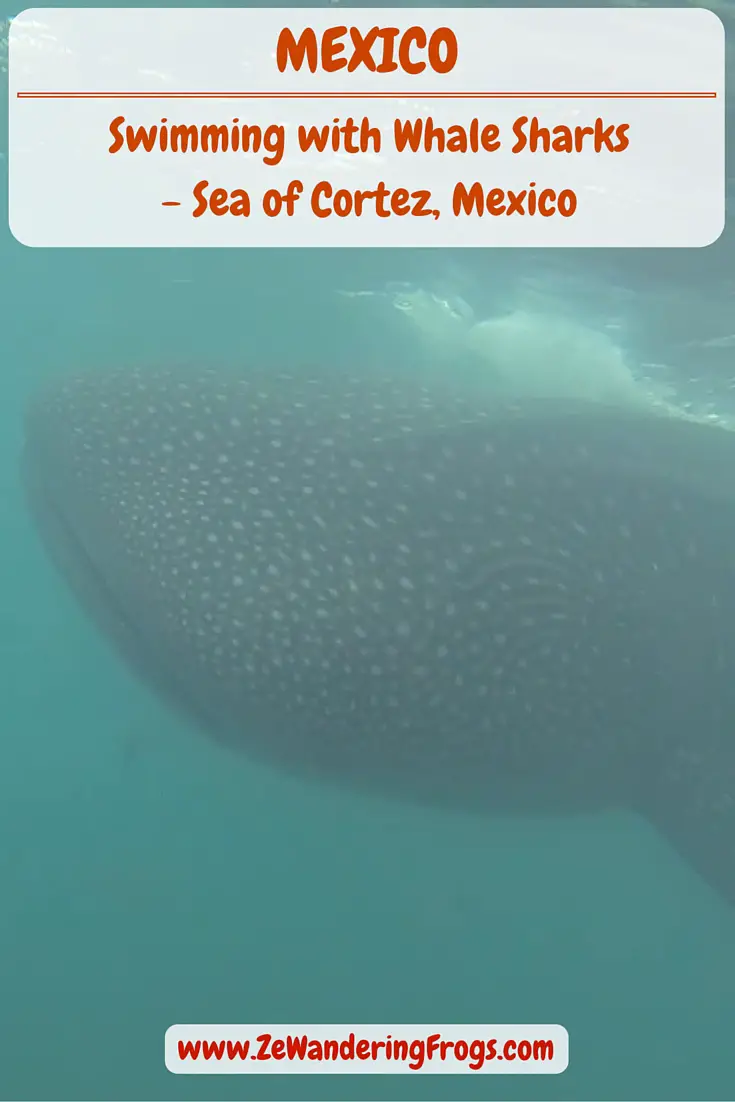 ZeWanderingFrogs.com is a participant in the Amazon Services LLC Associates Program, an affiliate advertising program designed to provide a means for sites to earn advertising fees by advertising and linking to amazon.com, amazon.co.uk, amazon.ca. Amazon and the Amazon logo are trademarks of Amazon.com, Inc., or its affiliates.
You like this article? Please share and spread the love!