So many dive sites to discover around the world, the choice is endless! With thousands of destinations and sites, I asked fellow diver bloggers to share their top diving spots. Hopefully, these first-hand experiences will provide with unheard spots and useful tips to plan your next diving trip. Check their dive recommendations – Maybe these will be your next diving destination!
Anilao, Mabini, Batangas – The Philippines
Anilao, on the coastline of Batangas in the Philippines, is globally known as a treasure trove for macro photography and is suited for divers of all experience levels. I passed both my Open Water and Advanced Open Water in Anilao this year, and since then, I've been back there almost every other weekend to dive. A mere 2-hour drive from Manila (traffic depending), Anilao possesses insanely beautiful, tropically warm, crystal clear waters teeming with critters. Batangas has one of the richest concentrations of diverse marine life on the planet, including 90% of coral species found in the entire world!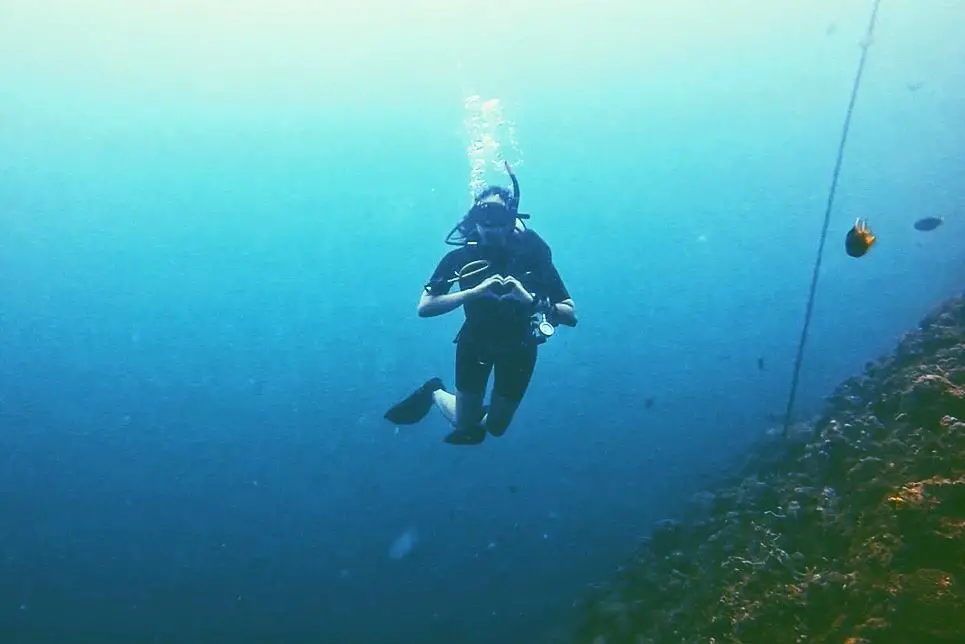 It's a great place for drift dives, checking out caves, exploring drop-offs, coral gardens, and other cool underwater phenomena. Some recommended spots for beginners are Cathedral (a marine park sanctuary full of gorgeous corals and fish species), Beatrice Rock (full of reef fish and deep channels), Dari Laut (the shipwreck of a floating casino-hotel-restaurant that caught fire and sunk in the '70s), and Mainit Point (where, on a good day, an exhilarating current will give you an underwater rollercoaster ride through some of the most amazing coral reefs this side of earth).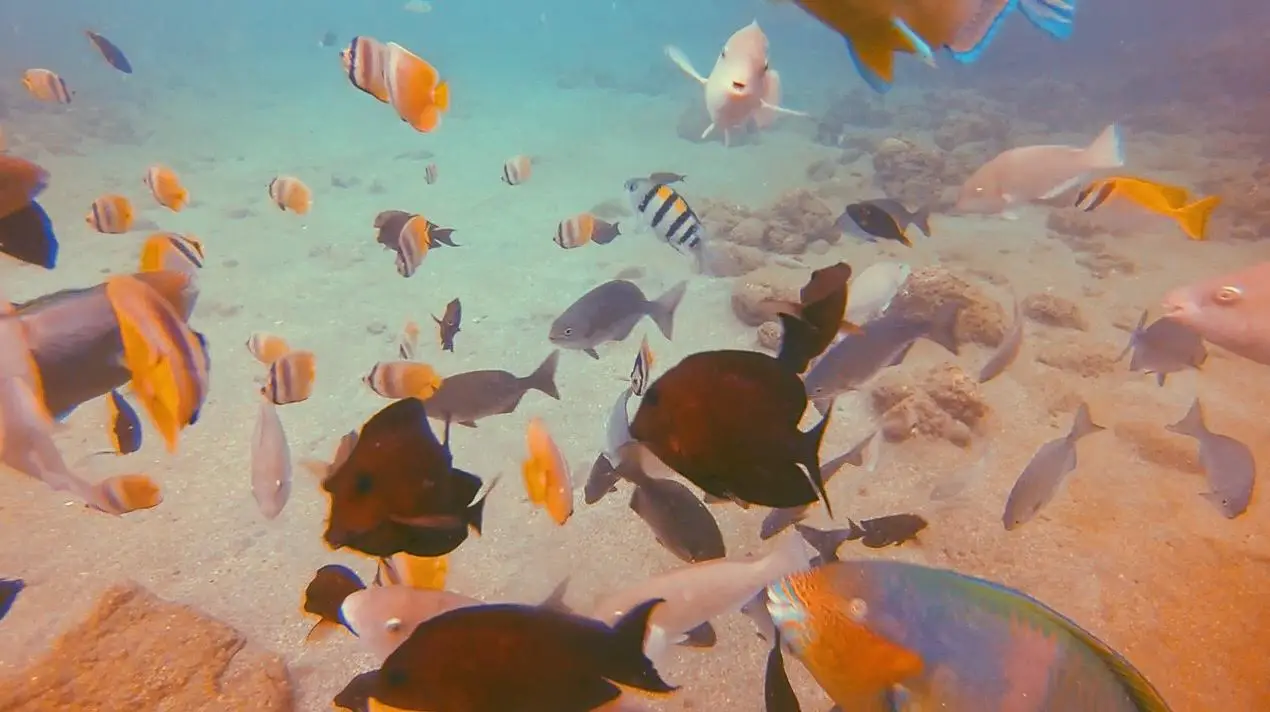 The resorts range from incredibly cheap to the more expensive – higher end resorts have delicious food and top-notch service. Diving hospitality in Batangas, let alone the Philippines, is unparalleled – boatmen will go above and beyond for you here! Expect your tanks to be carried, bananas and hot chocolate to be waiting for you on the boat after every dive, and for the bangka to be sailing to your rescue before your safety sausage has even been fully inflated. I'd recommend Acacia Resort, Bambu Resort, or Dive and Trek. After a day of diving (or before your night dive), relax with a refreshing drink to watch the sunset turn pink-orange-purple over the quiet, glossy sea. (Batangas is home to some of the best sunsets I've ever seen.)
Whenever you dive in Batangas, you're guaranteed to spot teira batfish, clownfish, parrotfish, triggerfish, moray eels, corals, clams, sea cucumbers, stargazers, octopi, anemones, the occasional turtle, and so much more. I highly recommend Anilao for any divers near Manila looking for a beautiful, affordable, and unforgettable coastline to dive!
By Mel at Illumelation | Instagram | Facebook
Silfra Fissure, Thingvellir National Park – Iceland
Deep inside Iceland's spectacular Thingvellir (Þingvellir) National Park lies Iceland's greatest diving treasure, the Silfra fissure. Thingvellir National Park is just 30 miles (49 km) from Iceland's capital of Reykjavik. The Silfra fissure is an ever widening crack down the center of Iceland where the North American and European tectonic plates are slowly tearing apart at a rate of 0.8 inches (2 centimeters) per year. The Silfra fissure is considered by many to be one of the world's top dive sites. Silfra boasts an experience that can be had nowhere else in the world. Not only does it offer some of, if not the purest, water on Earth; it is the only place in the world where you can dive between two continental plates that are slowly tearing a country apart.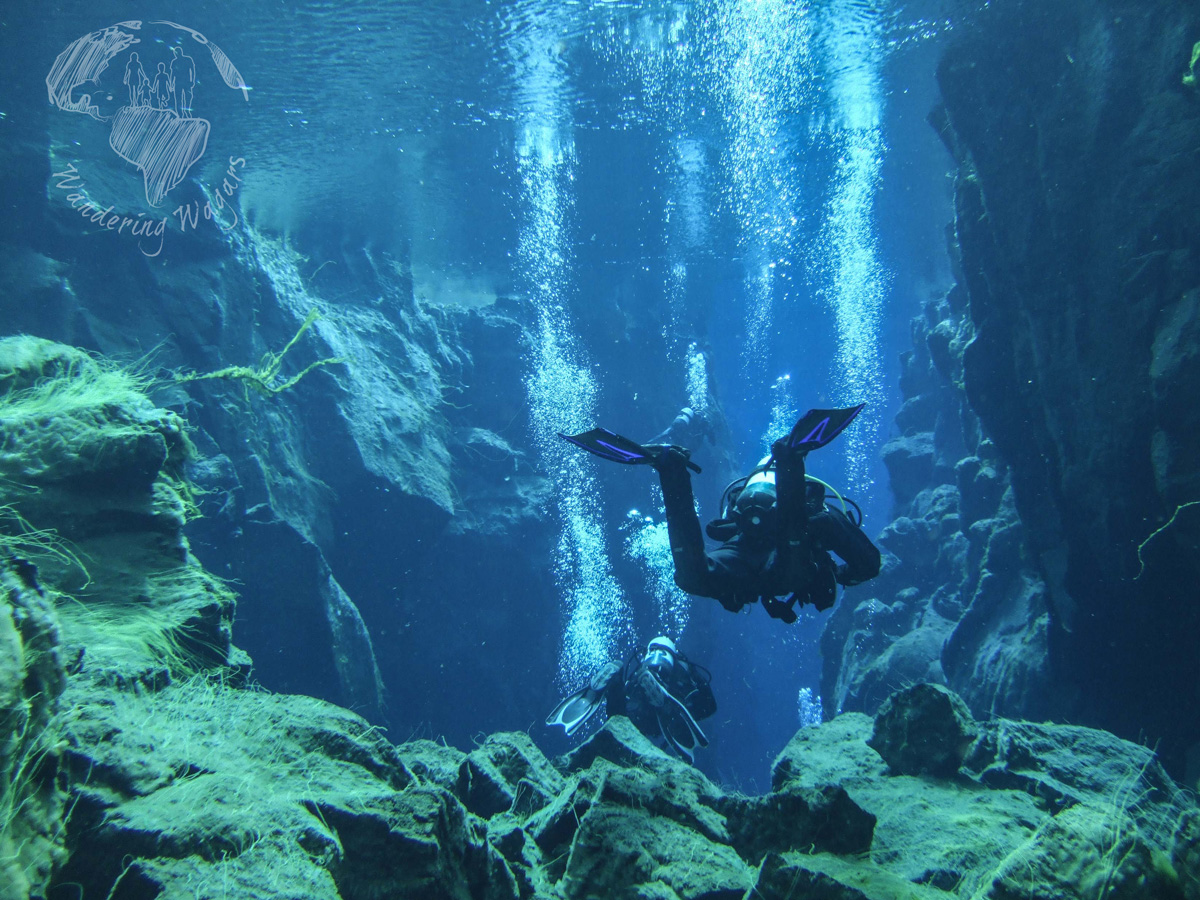 Due to the frigid (35°F to 39°F – 2°C to 4°C) waters year round, diving Silfra fissure requires the use of a dry suit. The dive itself is good for beginners if you don't mind a little numbness from the cold on your face, fingers, and toes. It also isn't necessary to have dry-suit certification or experience beforehand, although it does help.
Diving Silfra requires a hike with all your dive gear from a parking lot, about 328 feet (100 meters) to a platform with steps leading down to the fissure. The maximum depth of a dive in Silfra is 59 feet (18 meters), but the average depth of the dive is between 23 and 40 feet (7 and 12 meters), with the time in the lagoon making you wish you just brought your snorkel.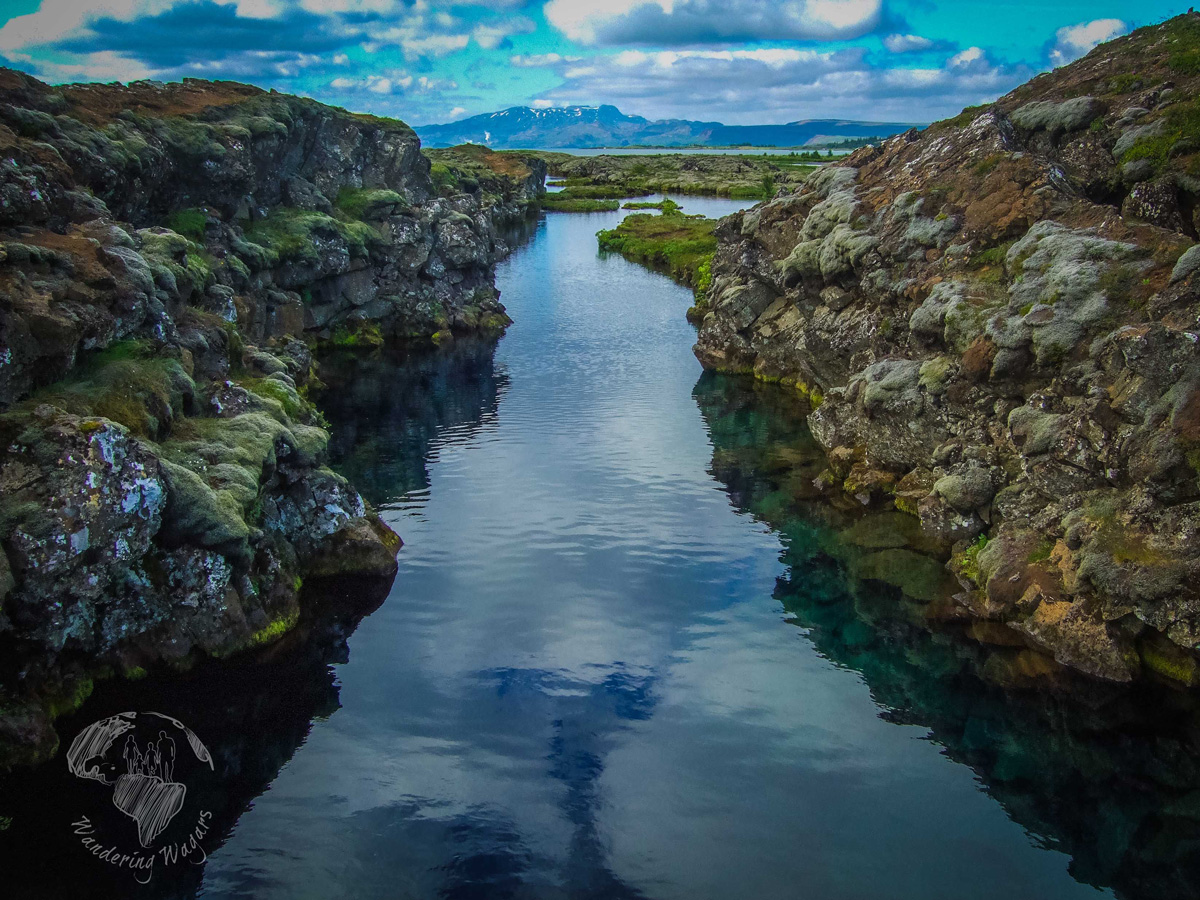 While you won't find colorful fish or brilliant corals in Silfra, the cliff walls are lined with gorgeous electric green algae called "troll hair" and other colorful algae that add an otherworldly dimension to the rocky edges.
Along with its spectacular geology, the water is so clean you can remove your regulator and sip at the ice-cold water for a refreshing drink whenever you wish (just make sure you don't drink so much that you pee in your dry suit). The purity and cleanliness of the water are due to it melting from the nearby Langjökul Glacier and being filtered through porous underground lava for between 30-100 years until it reaches the north end of Thingvellir Lake, seeping out from underground wells.
The Silfra fissure has four unique diving sections: Silfra Big Crack, Silfra Hall, Silfra Cathedral, and Silfra Lagoon. Most dive outings will offer the chance to see all four sections.
Some dive centers offer a combined Silfra dive and tour of the incredible Golden Circle which is a great way to combine some of the most amazing and accessible parts of Iceland into a single trip.
Iceland is one of the most impressive countries that we have had the opportunity to visit. Every part seems to offer unique and mind-blowing geology, spectacular waterfalls or glaciers. The diving culture is still in its youth in this country, and new dive sites are being discovered each year, but no visit to Iceland is complete without experiencing the amazing Silfra fissure.
By Kevin & Christina at Wandering Wagars | Instagram | Facebook 
Marsa Alam, Hurghada – Egypt
The Egyptian resort town Marsa Alam is situated 186 miles (300 km) from Hurghada on the Sinai Peninsula. It is a fairly newly built resort town. This part of the Red Sea is less frequented by divers and the underwater life is denser than in other more popular dive sites like in Sharm-el-Sheik or Hurghada.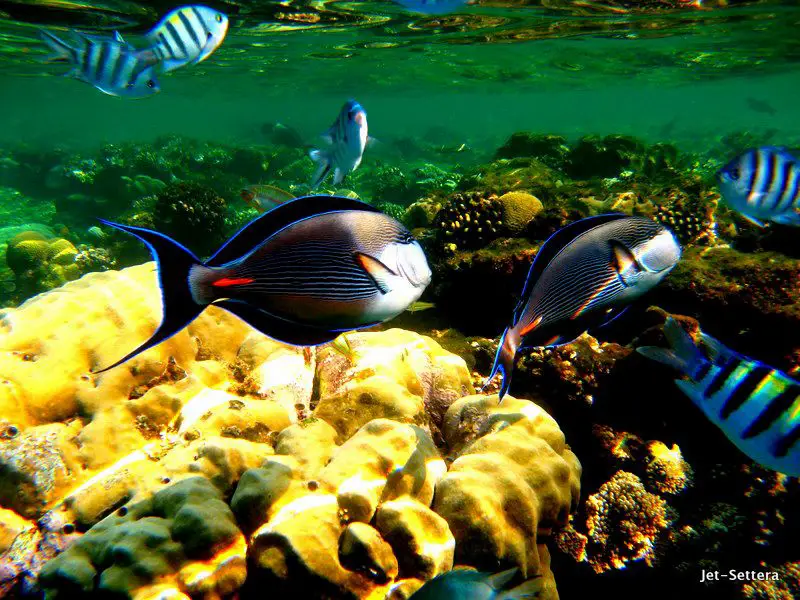 We stayed at the Brayka Bay Reef Resort which is a beautiful five-star hotel. The hotel has its own protected coral beach so it is the perfect place for divers and snorkelers. It's easy to walk out of the hotel and jump into the sea and dive. It is one of the most spectacular diving sites around the Red Sea because the ocean life here is very concentrated. The visibility is great, the water is warm. The sea is absolutely perfect for diving. It is recommended to beginner divers as well as advanced divers. Beginner divers can dive in the shallow water around the hotel while advanced divers have the option to take the boat out to the open water to do deep dives. There were many parrot fish swimming around me. Lionfish was also very common. These creatures had their wings spread. They looked like a butterfly. They were colorful and spectacular, but at the same time, they were poisonous. Interestingly some of the most beautiful things in the ocean can be dangerous. Clownfish were pretty common as well. You are probably familiar with the clownfish from Finding Nemo. We also saw a few Moray Eels. The area is famous for a large mammal called Dugong also known as sea pig. Unfortunately, we did not see any dugongs underwater.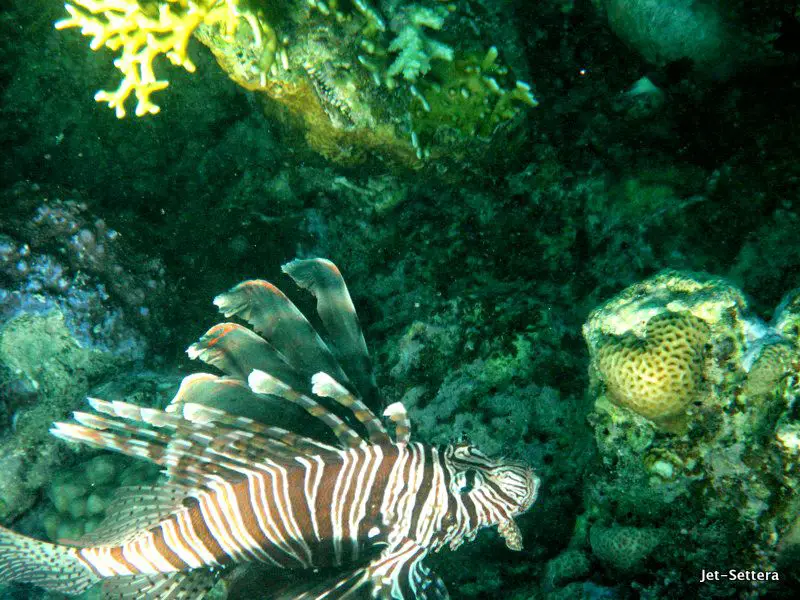 There are also a few wrecks to explore underwater. These wrecks are not very large but completely taken over by ocean life. I saw many fishes in and around the shipwreck. It was like an aquarium. Marsa Alam is a very special dive site of Egypt. The underwater life was very concentrated and colorful. It was almost like swimming in a crystal clear aquarium surrounded by colorful fish & corals.
By Barbara at Jet-Settera | Instagram | Twitter 
And because the Red Sea is such an iconic diving site, check this post from Sarah at Girls That Scuba for more information on Red Sea Diving Trio; Jordan, Israel, Egypt.
Liberty Wreck, Tulamben – Indonesia
One of my favorite dive spots is the Liberty Wreck at Tulamben on Bali's North West Coast.
For a bit of history – The USAT Liberty was a United States Army cargo ship torpedoed by a Japanese submarine in 1942. Once struck, the ship was towed to shore where the Americans told the Balinese they would be back to reclaim it after the war. They never came and the ship sat corroding on the beach for the next 20 years. In 1963 the volcano on the island erupted and the flow of lava carried the boat off the beach and into the waves where she sank to her not too shallow grave.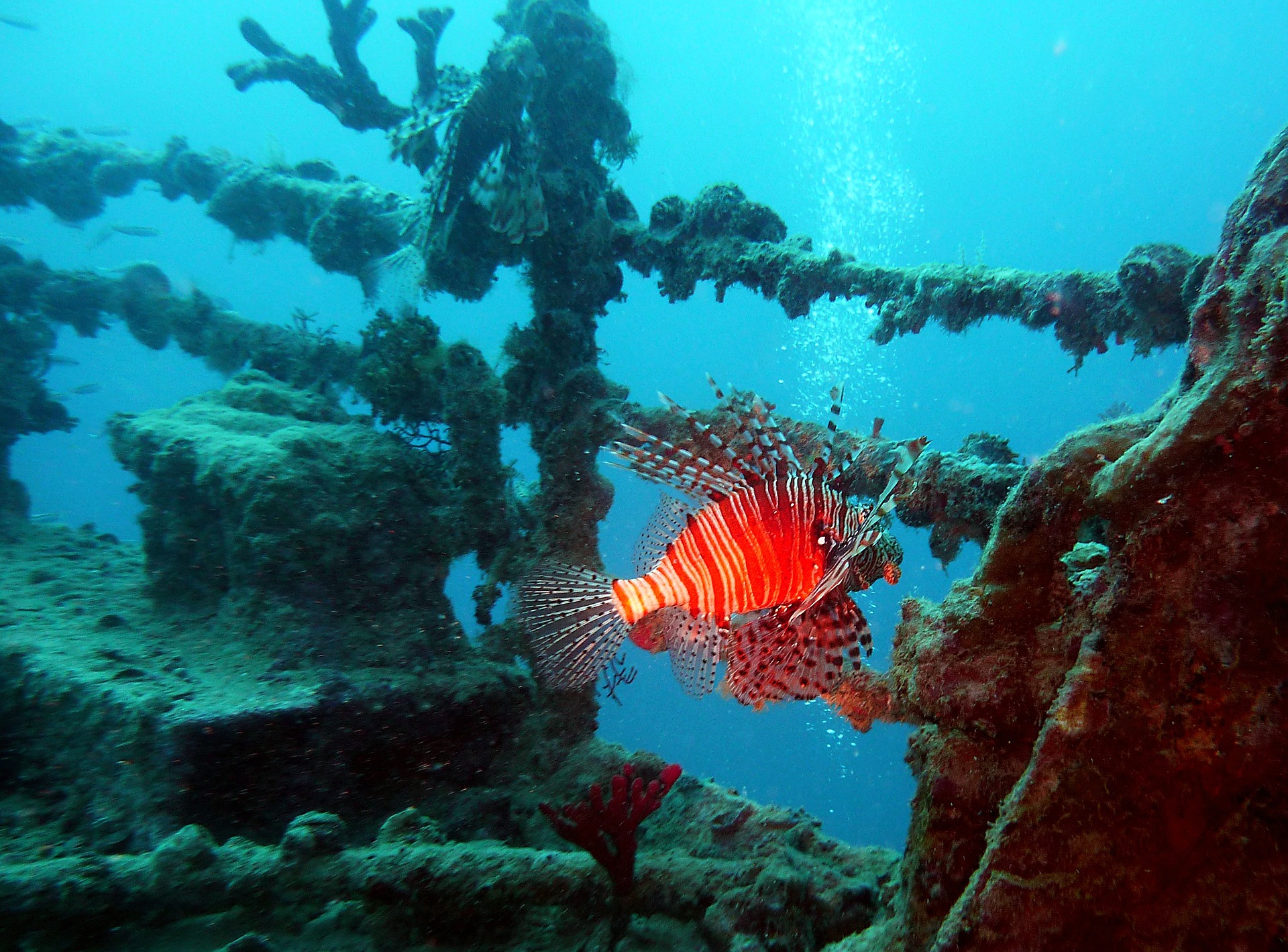 As divers who have only got the basic PADI Open Water Certification we had always thought we would never have the opportunity to dive a shipwreck (they tend to be rated as advanced dives) – and so imagine our surprise and excitement on our last trip to Bali to discover a beginner-rated 394 feet (120m) wreck which sits between 16 – 65 feet (5-20m) below the surface! There is one catch to this awesome dive site, however – and that is that it's a shore dive. So rather than hopping off the side of the boat into (hopefully) calm waters, you wrestle with the waves, clambering over smooth pebbles to get out far enough to start your descent. I'll admit – I took a tumble and a face full of wave – but it was worth it to get to the wreck. They say that 90% of the time the waters are crystal clear and warm enough to only require a short wetsuit – and on our dive, it was just that.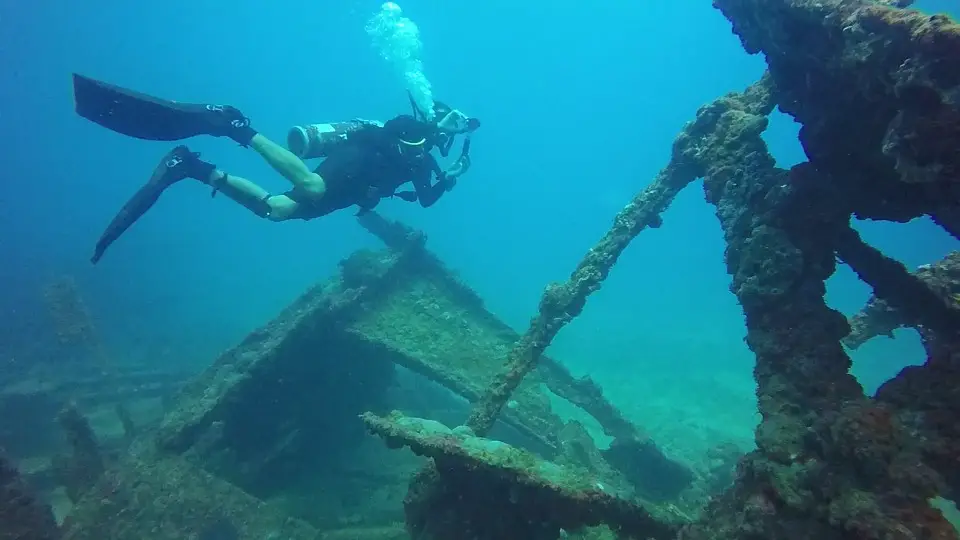 Your can see the top of the wreck from the surface (which makes it a good site for snorkelers too) and then once below you can see that the wreck is very well preserved with lots of colourful coral and a few spots where you can swim inside (something not available on all shipwrecks due to safety issues). As for marine life, you will be treated to schools of trevally, bream and fusilier along with Batfish, angelfish, red fire fish, lionfish, scorpionfish, hawkfish, bumphead parrotfish, pufferfish and coral trout just to name a few. It's a marine wonderland! To top it off, if you swim a few meters away from the wreck at its deepest point you may be lucky enough to see some garden eels – which are absolutely incredible – like a section of tall grass laid across the sand swaying in the current.
If you're ever in Bali and looking for a beginner dive site, head on out to Tulamben – you won't be disappointed!
By Vicki at Make Time To See The World | Instagram | Facebook
And if you are looking for other diving experiences, consider visiting the Gili Islands or the Nusa Islands, islands near Bali that offer also great scuba opportunities.
Bequia – St. Vincent and the Grenadines
Bequia is one of the Grenadines, a string of islands that are part of the 32 island nation called "St. Vincent and the Grenadines" in the Caribbean – a pretty long name for one country with 100,000 residents (about 4,500 on Bequia, pronounced Beckwee). Part of the West Indies, they are south of St. Lucia and north of Grenada.
Why choose Bequia for diving? In our case, we just got lucky. Bequia was the second stop on our 10-day bareboat sailing itinerary. Tom had been corresponding with Cathy at Dive Bequia for several months, organizing reservations for all divers in our bareboat sailing fleet (nearly 20 divers of the 33 sailors). They were able to accommodate all of us since they have two boats, with the experienced divers going out for two tanks in the morning, and the 3 newbies getting open-water certified with more personal attention in the afternoon.
The diving in Bequia is outstanding. We were hoping for good diving, but we were super pleased with just how good. The depths were in the "perfect zone" of 40-80 feet (12-25 meters), the visibility was very good, the surface conditions were calm, the water was warm (82F, 28C), with no pesky currents. There are wrecks to explore and boulder piles add variety to the terrain. Experts and beginners will be happy here.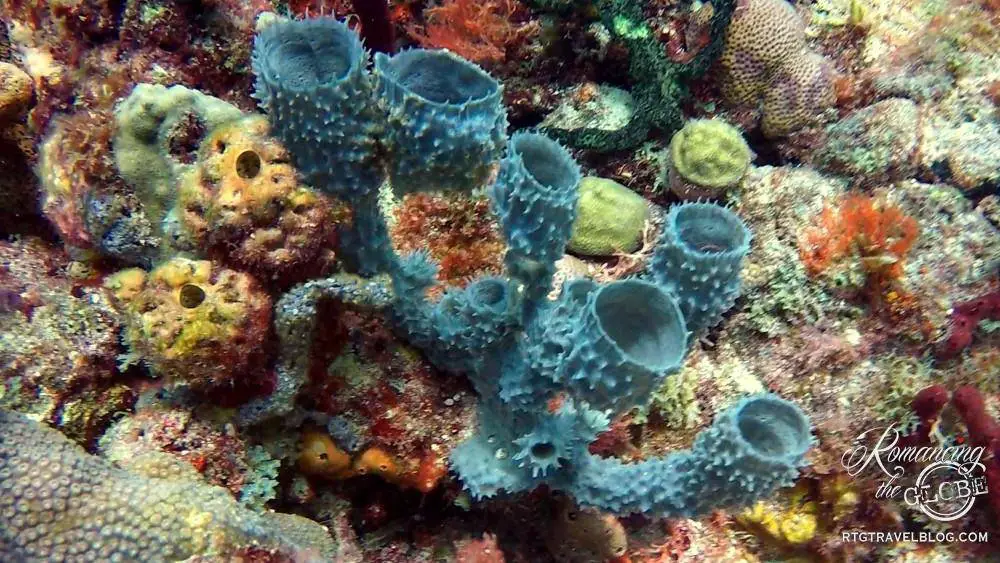 We dove two sites: The Boulders and Devil's Table. The first thing we noticed within minutes of descending was the overall health, color, and vibrancy of the reef! What looks gray/blue/dull ahead shows its brilliance as we swim closer! Early on in the first dive, we experienced an avalanche of Creole wrasse, which all but obscured my view of my favorite dive buddy. The fish are abundant, colorful, and varied! There is no chance of being bored with the same types of fish. There is, however, the danger of whiplash as there are new beautiful critters swimming into view every moment. We especially enjoyed the variety of trumpetfish and filefish.
By Tom & Sheila at Romancing the Globe | Facebook | Twitter
Fernando de Noronha – Brazil
Fernando de Noronha is a jewel of an archipelago off the coast of Brazil, reachable by a short one hour flight from Recife or Natal. Along with 28-degree water and up to 165- feet  (50-meter) visibility, it is home to sharks, dolphins, turtles and rays. There are a variety of dive sites, which ensures that there is something for everyone, ranging from sheltered 39 feet (12 meters ) dives to more advanced drift and cave diving.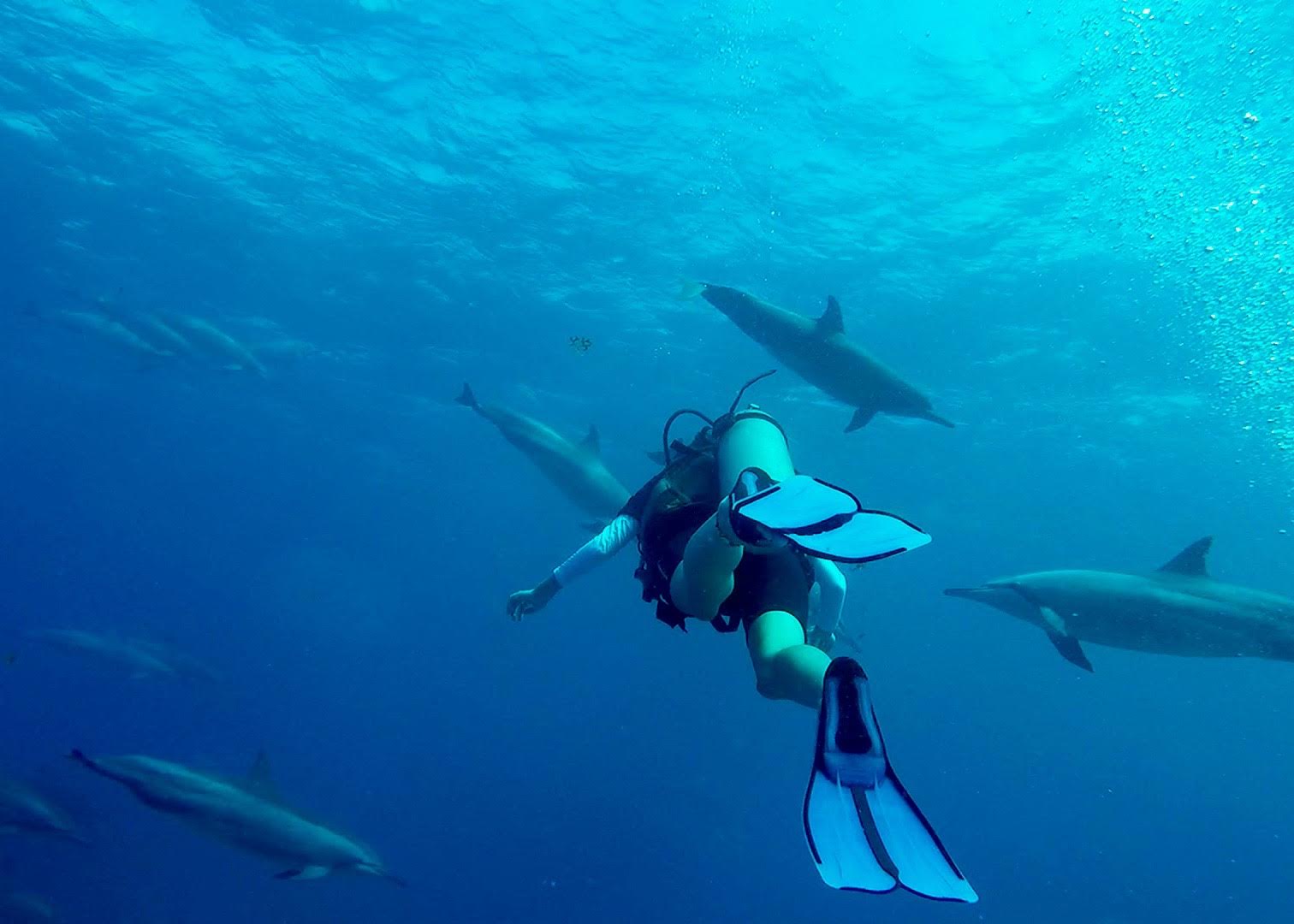 This is not a place to pre-plan which dive sites you want to visit; dive masters are informed as to which sites they can visit when they reach the port in the morning by the environmental agencies, making planning a non-starter. Just relax and realize that wherever you dive on this wonderful island you will encounter something special. We completed six daytime dives and one night time dive during our time there and never left the water disappointed.
Our highlight was surfacing into a pod of 30 plus dolphins which spent the next 10 minutes circling around us, playing with us and generally making us feel exceptionally ungraceful floating around with our tanks, fins, and BCDs. Following closely in second place was our night dive where we found a 3-feet (1-metre) long turtle, watched rays in flight and disturbed several sleeping sharks. Be sure to keep your eyes peeled whilst on the boat heading to and from dive sites, as the sighting of spinner dolphins leaping playfully free of the surface are extremely frequent, think once a day minimum.
There are three dive schools on the island: Atlantis, Agua Claris, and Noronha Divers. Most dive schools will offer a multi-dive or a cash discount. We used Noronha Divers and on average it was $100 for a 2 tank dive day. When park passes and environmental taxes are added to the cost of the actual dives it is certainly on the pricey end of the spectrum, but it is hands down the best diving we have ever done.
The island itself is also an attraction and with a limit on tourist numbers (around 400 at any one time) you will have plenty of freedom to explore this undiscovered gem when you are not diving. If you want to take a break from diving but still to be in the water, grab a snorkel and head to Baia de Sueste, which is a turtle feeding ground, or head to the dock where there are shark infested wrecks. If you are completely finished with the water then Fernando de Noronha also happens to have Baia de Sancho, a beach which is always in the running for the accolade of the world's best.
By Terry & Emily at The Sleepy Travellers | YouTube
Hamlet Cliff – Bonaire
Bonaire is a diving paradise, where the entire shores and reefs are part of the island's National Marine Park. Shore dives are especially popular, where divers just need to park close on one of the 90 dive sites along the road the road. The west site has the most sites but the east side offers a few options as well, though these would be better reserved for experienced divers due to the rough exposed waters.
We did five dives on the island from shore dives at the Salt Pier (highly recommended) to boat dives at Monti Divi and Leonora Reef around Klein Bonaire. We dove twice at Hamlet Cliff, one of the few wall dives on Bonaire, and had two totally different experiences.
The day dive was our first dive on the island and was perfect to get a feel of the island. We stayed about one hour at the site at a maximum depth of 65 feet and saw a white yellow eel, lettuce sea slug, flamingo tongues, lionfish, parrotfish including midnight parrotfish, filefish, a black moray, and the stars of the place – longsnout seahorses! These were so tiny. It took us a while to find them but luckily our dive master was able to spot them and pointed them to us. It was a real treat to see the little creatures in their natural habitat. Besides this thrill of seeing them, the area teemed with nudibranchs which I am a big fan of. These were beautiful, all with different striking colors – turquoise, yellow, purple, white, and other amazing colors.
The visibility was awesome, it really felt like we were diving in an aquarium. School after school of fish swam around us for most of the dive. The main draw for this site is definitely the seahorses, as these are hard to find and see.
We returned to Hamlet for a night dive, a special one as we were diving with UV Light. The dive was spent at 60 feet (18 meters) for about 30 minutes, and we had special gear on that included ultraviolet lamps and a yellow filter over our regular masks to allow us to see the UV light. The light generated a fluorescent glow that contrasted strongly against the black waters. Coral and fish would here and there shine with bright fluorescent yellow, reds, purples and green colors. We could see the fluorescent across a wide range of species, not just one in particular. However, the brain coral seemed to contrast more than other corrals. Other marine life that showed the fluorescent results were jellyfish and lionfishes. UV night dives are really totally different and I totally recommend giving a try if you can. We came across with a group of three adult tarpons that followed us as we headed to our exit point. They shadowed us quick closely which was a little unnerving.
The diving site is accessed down a few steps once through the Dive Friend center located inside of the Hamlet Oasis Resort. Current are light to moderate, and dives are between 20-70 feet  (6-21 meters) of water, making it an ideal site for beginner divers and more experienced divers alike given some of its unique marine life and UV night dives opportunities. Diving on Bonaire is pretty much year round with water usually warm 76-85°F (25 -29°C). The island has several dive shops to choose from but we booked ours with Dive Friends as they have several stores spread along the west coast, which made picking up gear and refilling tanks easy.
By Patricia & Bruno at Ze Wandering Frogs | Instagram | Facebook 
Thanks to Barbara, Kevin & Christina, Mel, Terry & Emily, Tom & Sheila, and Vicki for contributing to this post. Content and photos were provided by each contributor.