We spent Christmas '14 in Truckee, on the North Shore of Lake Tahoe, enjoying the long holiday weekend and hoping for nice rides down the slopes, or snap the snowshoes on powdery trails.
With so little snow this year, we had to drive a bit to find a trail with snow, and so we did after a while, driving on a small forest dirt road north of Truckee and Stampede Reservoir.
Thanks to a northern exposure, the area had a relatively good snow coverage, letting us enjoy the views of the white blanket. It was a perfect day to be outdoor: sunshine and blue sky, no tracks on the trail, and no one in sight!
Ahhh pure bliss! Mother nature just for us.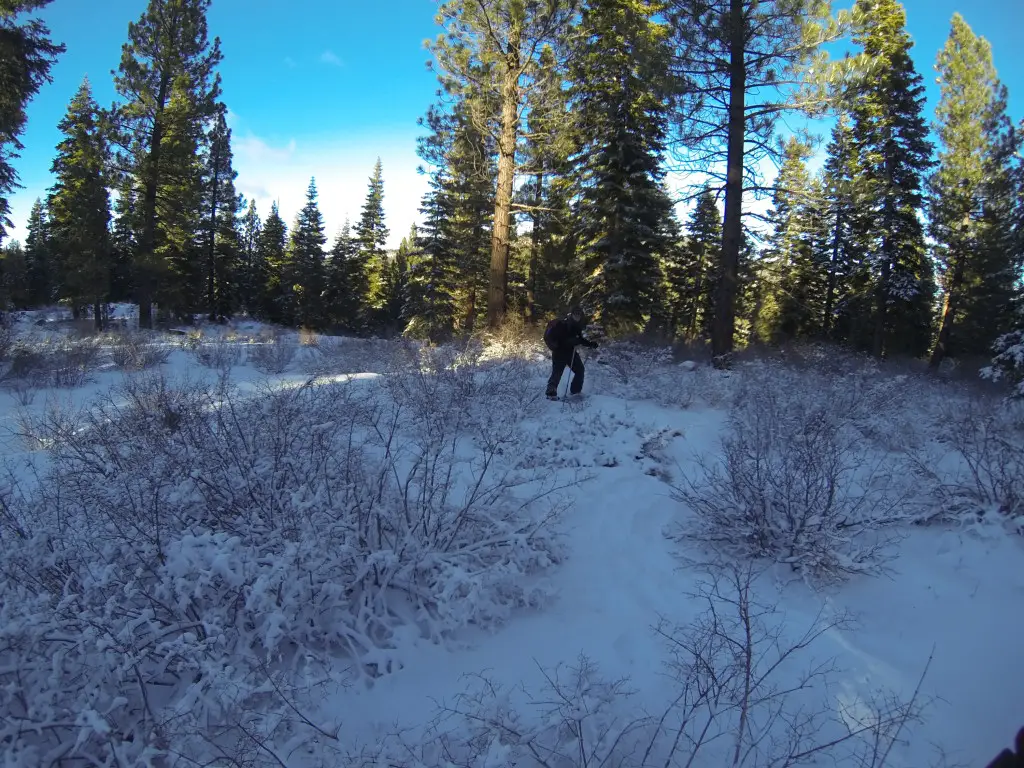 Season First Snowshoeing Trip

The trail was following a forest dirt road, wide and gently grated, appreciated for our first trip. I always like to go easy on whatever "first trip" of the season, be it snowboarding, snowshoeing or even hiking or backpacking. Not having the genes of an athlete means I need to go gently on my body (and getting younger isn't helping either), so first trips are usually on the easy side.
We had packed snacks, water and extra warm clothes (temps weren't that warm after all, guess the northern exposure was working its cool magic!), and off we went. It felt good to be out and about – I love the Sierras and always feel I am "finally" breathing when I am out in the mountains.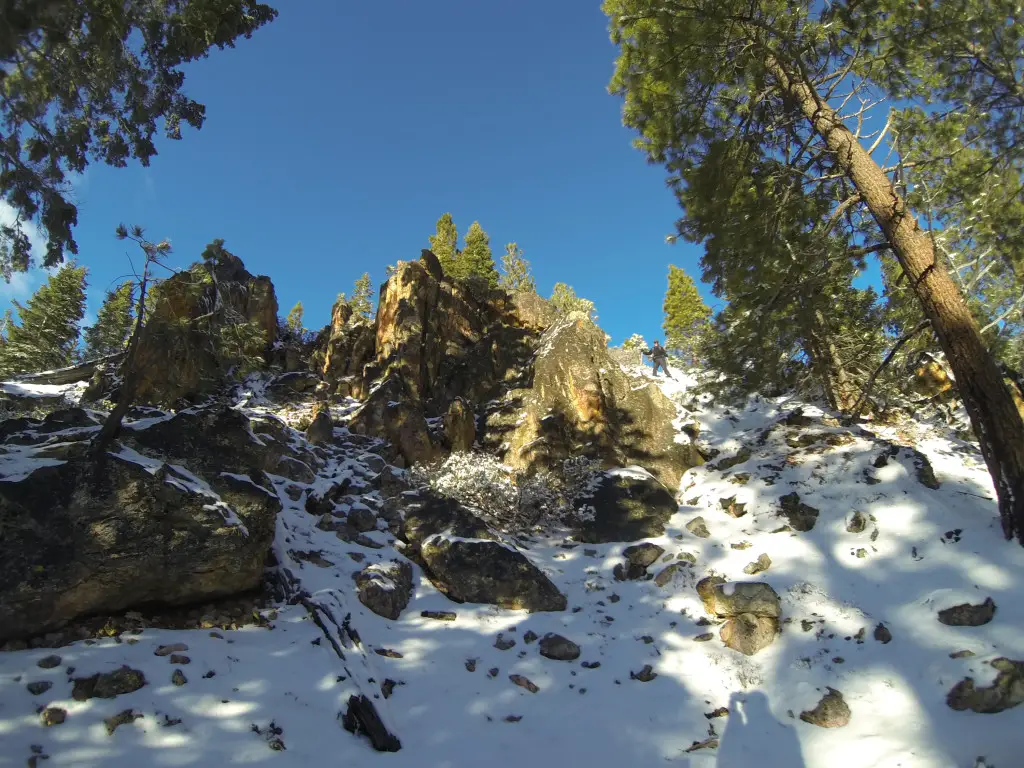 Going Off-Trail

After about 20 minutes on the trail, Bruno decided to aim for the next hill, checking the GPS on the iphone to gauge elevation and terrain. We started going down a slope, which was luckily not too slippery as the snow was relatively compact. Crossing a small frozen creek, we headed toward to the top of that second hill, hoping to reach out shortly and enjoy the view. That slope was not that gentle, and even if we were not sinking in thanks to the thin snow pack, it was still taking its toll on me, not having my "hiking legs" yet and the obvious lack of regular sport (yesterday's Christmas dinner not helping either).
Finally we made it to the hilltop. The view was not necessarily grandiose, but it's always a great feeling of accomplishment.  As it was getting late, we started on the way down, my legs keenly appreciating the change of muscle group. I was careful not to slide as the snow had turned mushy, warmed up with the late afternoon sun.
Lost Camera!
I then realized I could not find my camera! Darn, I probably lost it in one of my falls somewhere close to the top! Retracing our steps, looking for a small black squarish form – no luck. Rather annoyed with myself, I was trying to remember when I last used it but was not able to do so. More time passed trying to find the camera, and it was really time to head back to the car – we did not want to be in the dark with no lamp (well, I had mine…) but still, it's better hiking with actual light! As we were almost back to the trailhead, I spotted that very much desired little dark square – yes, indeed, my camera and I were reunited! And though it had spent several hours by itself in the cold snow, it still worked… Ah little one, a true companion to all our adventures…
By then, the sun had set down, and temperatures were dropping. Not freezing Arctic cold, but still cold enough to enjoy the warm heat of the running car.
For our first outing on that December 25th, the season was looking good!
Trip Details
Where: Henness Road, Truckee, California
Distance: circa 3 miles
Difficulty: easy
Duration: 3 hours back
Elevation gain:
Activity: snowshoeing