A long-time coming, but a definite must-see visit, Paris Catacombs did not disappoint. One of the most iconic Paris attractions, we never really made it to explore the underground network – until this visit. And what an incredible place!
Visit Paris Catacombs
We spent about one hour and a half exploring the roughly 1-mile (1.5 km) network located deep in the belly of Paris. The subterranean galleries were used as old stone mines from the 12th-century. Indeed the stones of Notre Dame Cathedral come from these Paris quarries.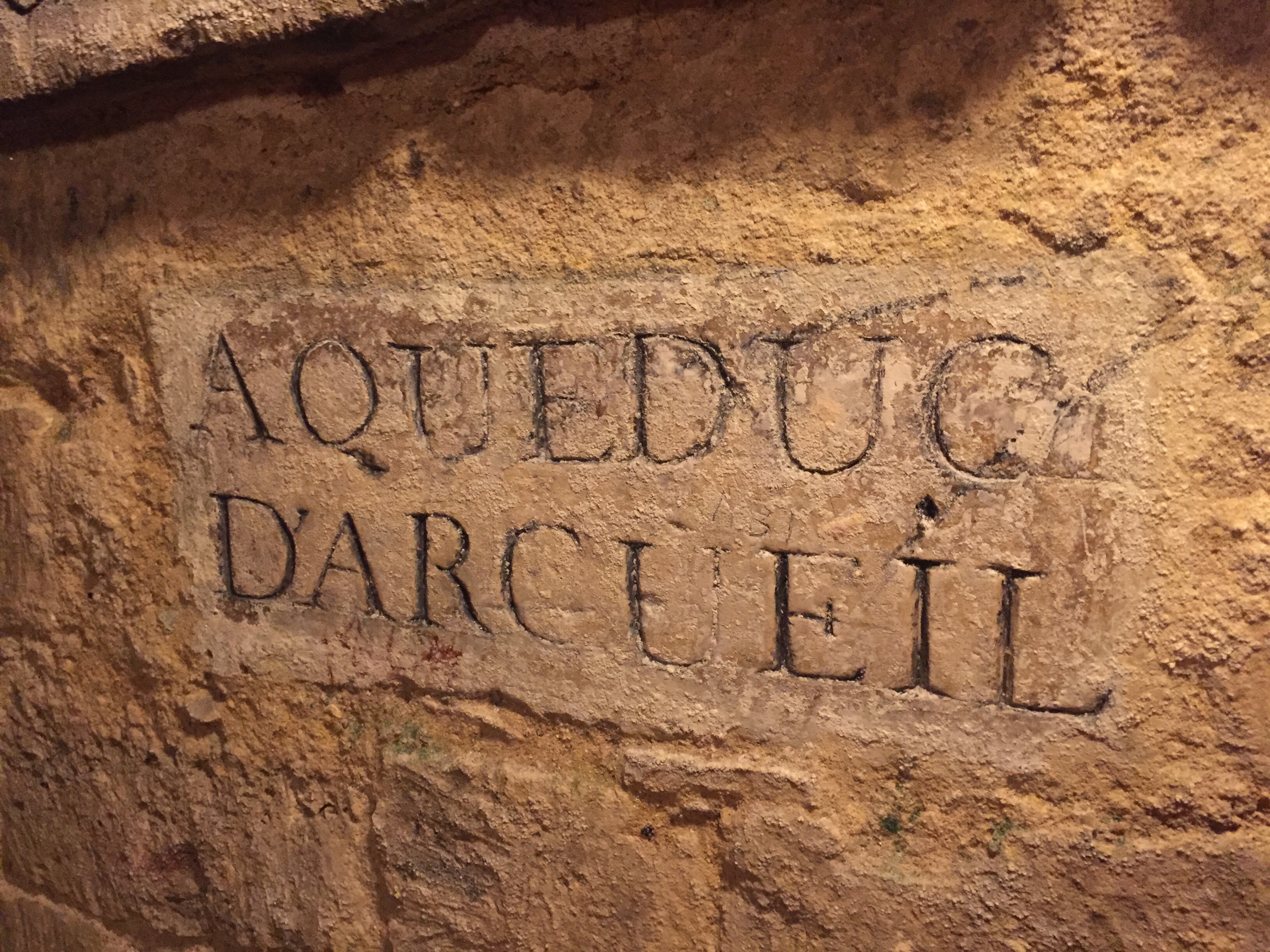 Over-production and excess of uncontrolled excavations led to the collapse of houses and streets in the 18th-century. The expansion of the population in Paris during the same period progressed to the point that cemeteries were at full capacity, creating health hazards.
So if you had asked me, "what are the Paris Catacombs?", I would have only mentioned the skulls the French Catacombs are. Little did I know about the mining history.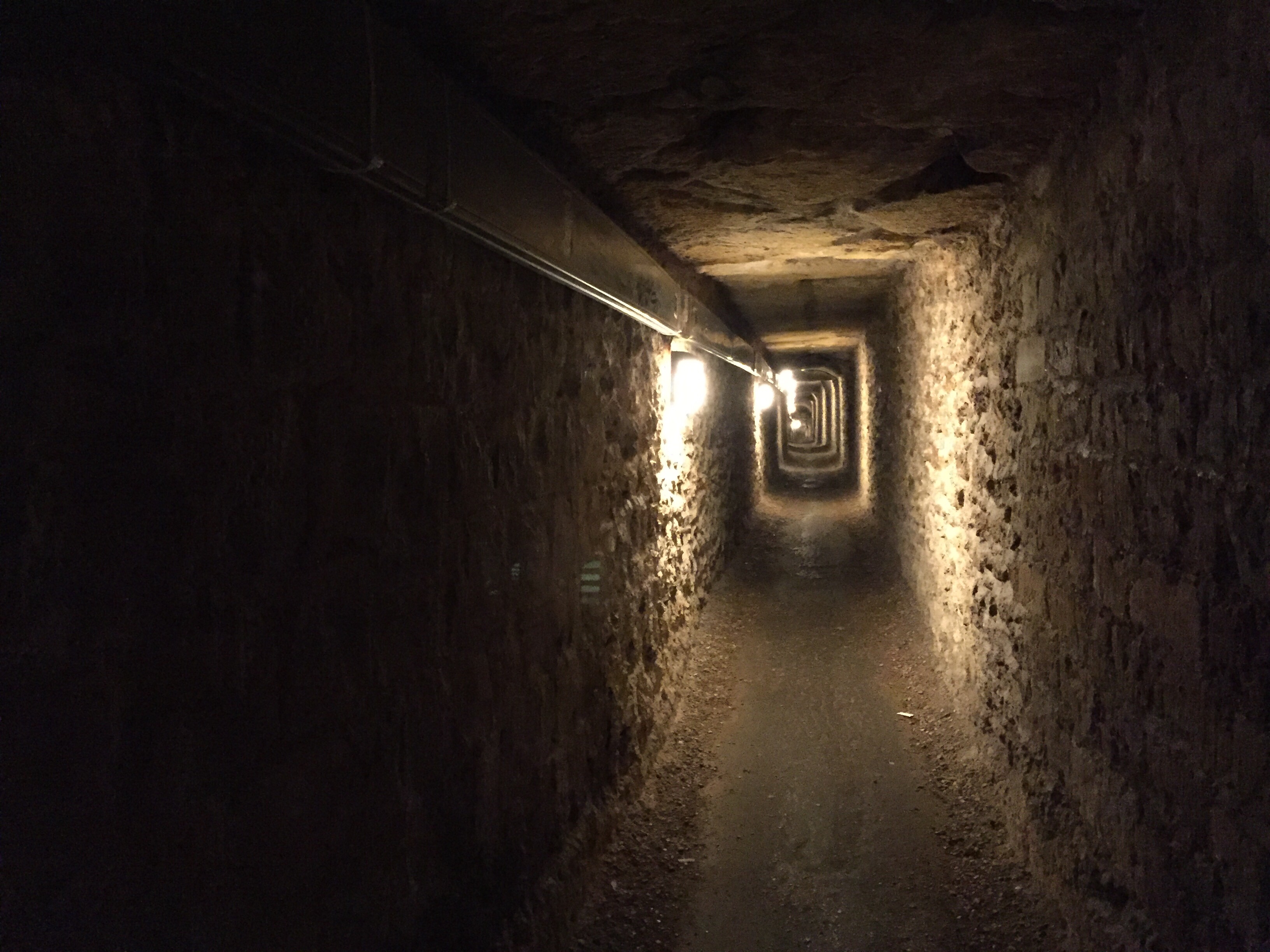 Paris Catacombs History
Come 1774 where the basement of the Saint Innocent cemetery collapses into the cellars of several Paris residents. Urgent changes were required to prevent further health problems. As a result, a Royal decision was made to move the deads from the city cemeteries to the underground mines and create the ossuary know today as the Paris Catacombs. Hence started from 1786 the transportation of the remains from several graves into the mine entrance close to the Rue de la Tombe-Issoire.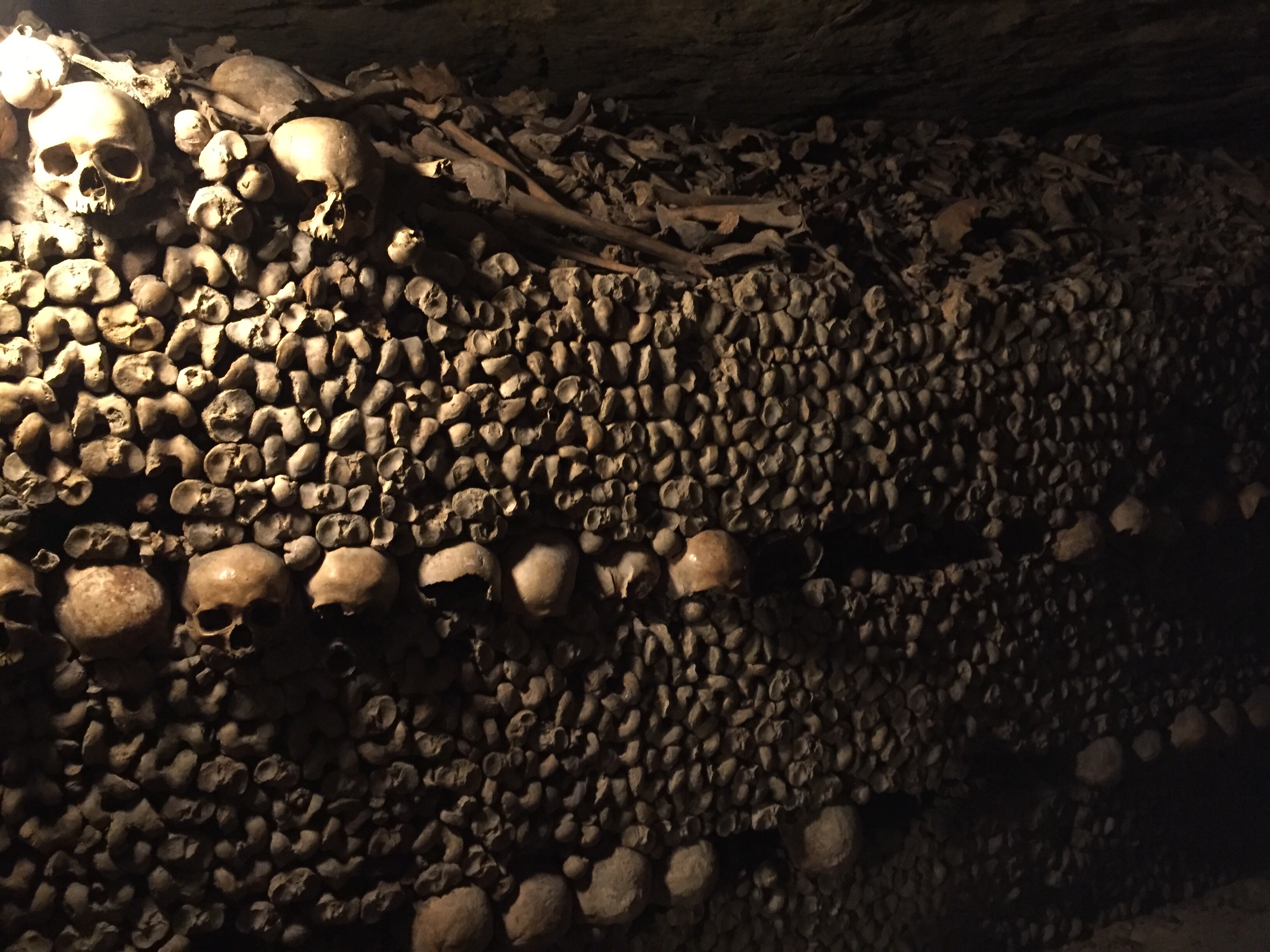 After the first years of being disorganized, the director of Paris Mine Inspection Service, Louis-Étienne Héricart de Thury, renovated the galleries into what would become the Catacombs as we know them. The bones of 6 million people now lay in defined orders, creating artistic displays of past Paris residents. While most are unknown, a few famous people include François Rabelais (15h-century), 17th-century Jean de La Fontaine, as well as the remains of guillotined victims of the French Revolution like Robespierre.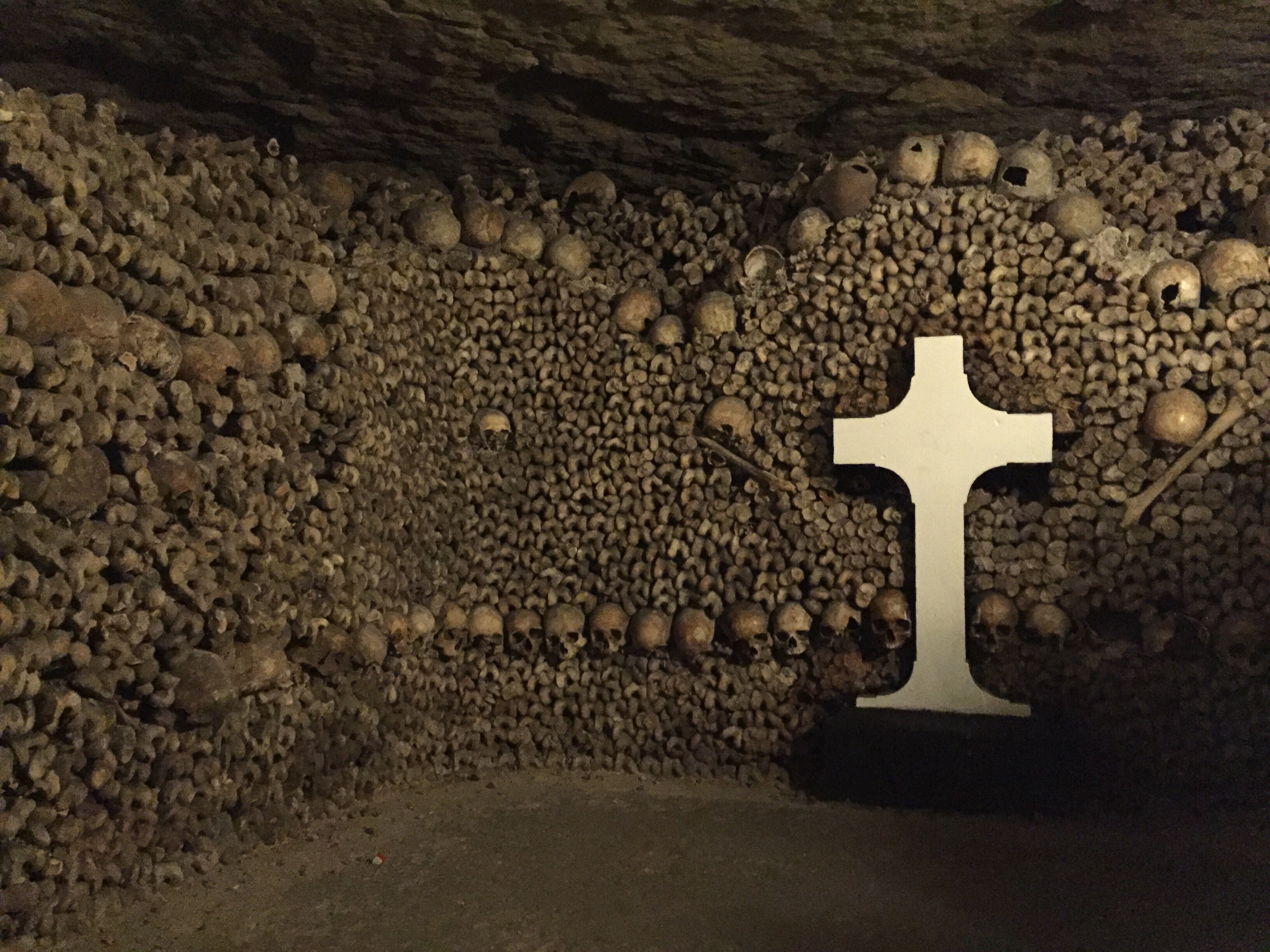 It is unbelievable to see so many human bones up close. Trying to think about how their lives were, back in Roman time, the Middle Ages, and up to the French Revolution. Hundreds and even thousands of years span between some of the bones, generations after generation of Paris residents.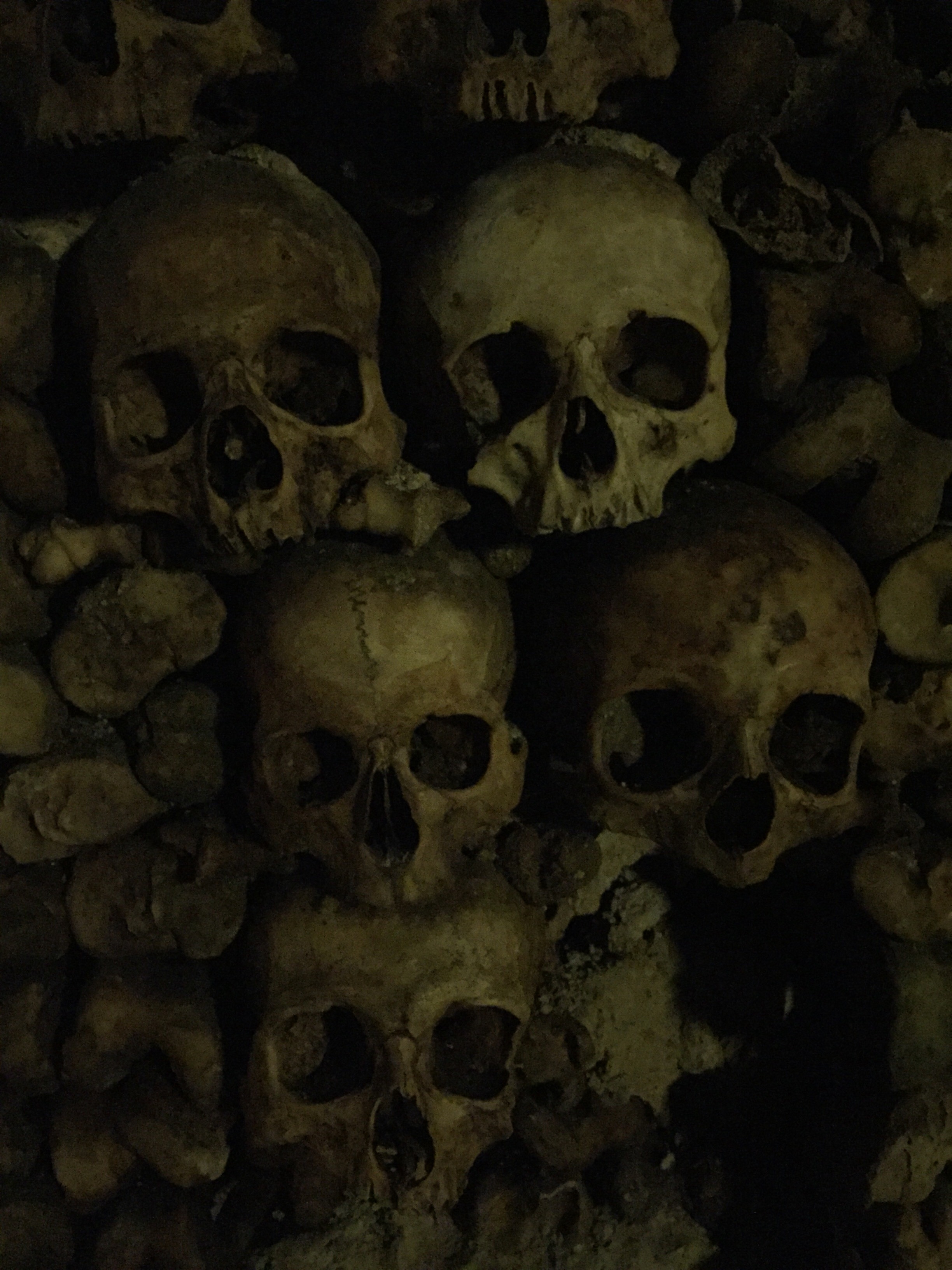 Paris Catacombs Tour
The visit can be done with an audio guide or through small-group tours. If you go independently as we did, we recommend buying the Paris Catacombs skip-the-line ticket (29 Euro). While slightly more expansive than the regular entrance ticket (13 Euros), it includes the audio guide (5 Euros) and will save you hours of waiting time, especially in the summertime. Book ahead in July and August to ensure you secure your Catacombs Paris tickets.
Paris Catacombs Travel Tips
Note that there are 130 steps to go down and 83 steps back up to street level, with no elevator. Once underground, the soil is uneven and slippery, so it is recommended to wear sturdy shoes.
Temperatures are cool all year-round, at  14°C. Bring a jacket or a fleece to stay warm.
Catacombs Paris hours: Tuesday till Sunday from 10 am till 8:30 pm
Last admission: 7:30 pm. Closed on Mondays.
The Paris Catacombs entrance is close to Métro et RER B: Denfert-Rochereau.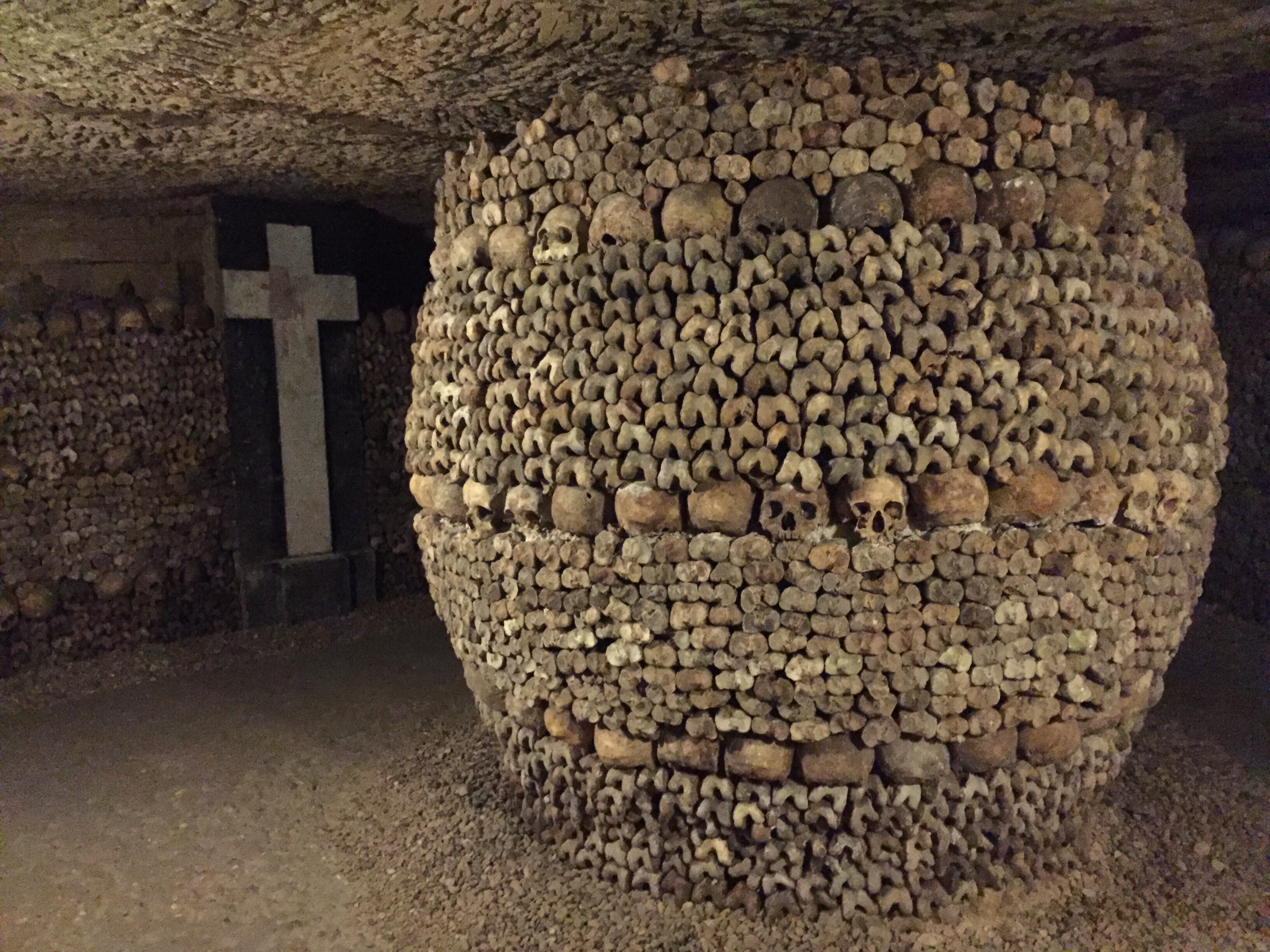 Montparnasse Neighborhood
The area is a full artistic feel and a great place for lively restaurants, shopping, to simply enjoy Parisian life. Check where to stay in Paris.
Interested in free things to do in Paris? Head to Père Lachaise Cemetery, go on a stroll along the Seine River banks, or explore the Canal St Martin. If you like to dive into royal history, check la Sainte Chapelle, a former Royal church that will stun you with its impressive stained glass windows! If you are looking to explore France beyond Paris, check one of these day trips or head to Auvergne and visit Clermont-Ferrand.
Stay tuned for more adventures
from our travel around the world!
Follow us now on
Facebook, Instagram, and YouTube. 
This post contains affiliate links, which means we receive a percentage if you make a purchase using these links – at no cost to you. Our opinions are our own and are not impacted by these partnerships.
ZeWanderingFrogs.com is a participant in the Amazon Services LLC Associates Program, an affiliate advertising program designed to provide a means for sites to earn advertising fees by advertising and linking to amazon.com, amazon.co.uk, amazon.ca. Amazon and the Amazon logo are trademarks of Amazon.com, Inc. or its affiliates.
You like this article? Please share and spread the love!