The Eiffel Tower, Notre-Dame Cathedral, and the Champs-Elysées are probably the most iconic Paris' attractions. But there is one place in Paris that we felt deserved a special visit: the Père Lachaise Cemetery. Indeed, we feel that this cemetery is one of the must-see attractions in Paris, mostly thanks to the Père Lachaise famous graves. What is so special about these graves, you might ask? Well, read further to find out!
This post contains affiliate links, which means we receive a percentage if you make a purchase using these links – at no cost to you.
Père Lachaise Cemetery
Located in the 20th Arrondissement, the famous « cimetière » as the French call it, is huge. And large. Built on hills. With several different sections fitting of a small town.
So don't expect to do a quick visit there. Of course, you can swing your way and be done in a short time. But you will miss what the place is about.
As we explored and strolled the large cemetery, we passed by tall memorials, some built several centuries ago. Entire families share the same memorials and headstones, from father to son, from mother to daughter.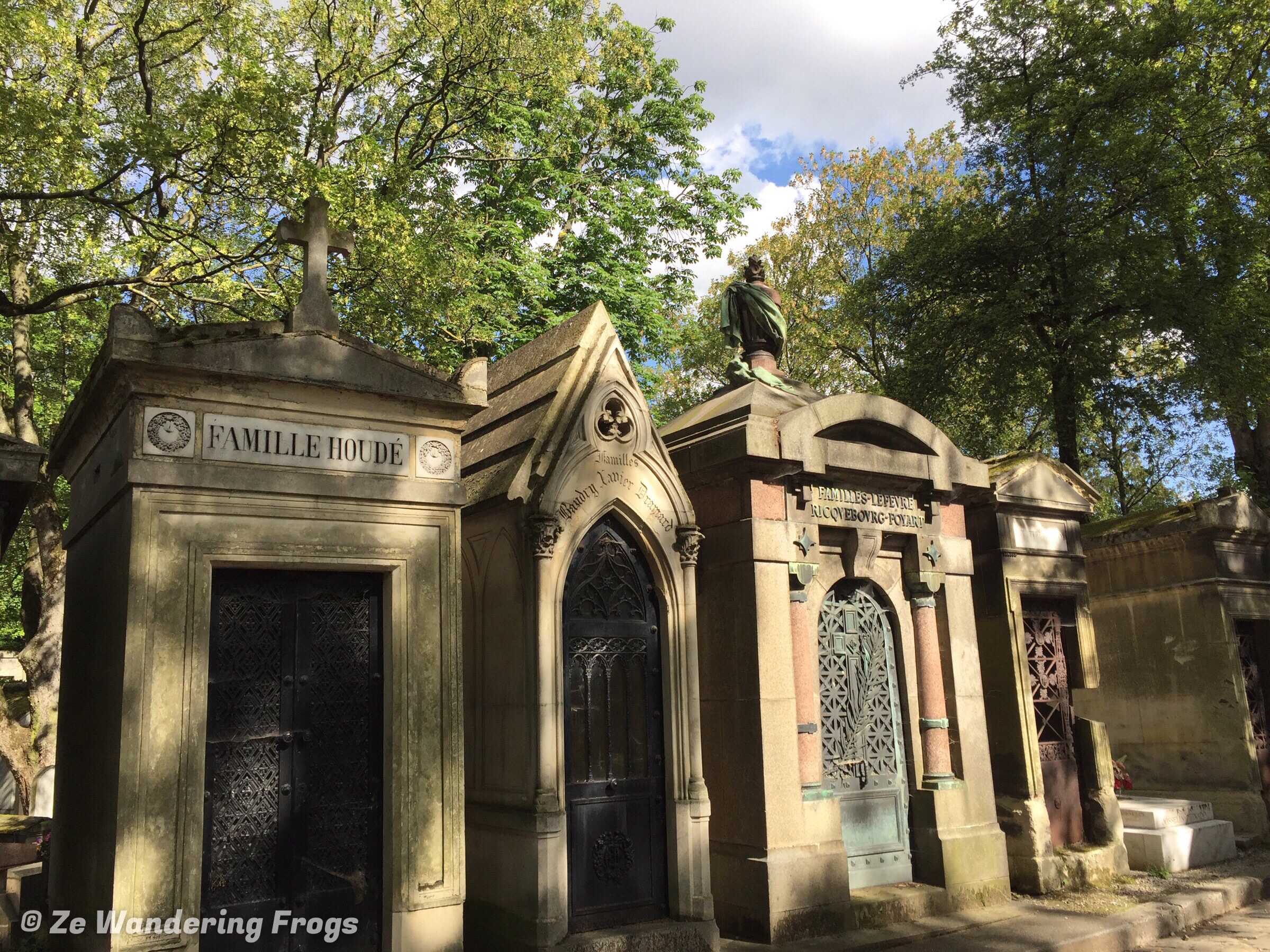 The neat alleys of the proud structures, memorials after memorials, made me realize that a cemetery is indeed the city in heaven. The dead live in their forever house, « in perpétuité ». Together, as a family.
While le Père Lachaise Cemetery was by no mean the first we ever visited, it was the first time I got to picture one as an actual city.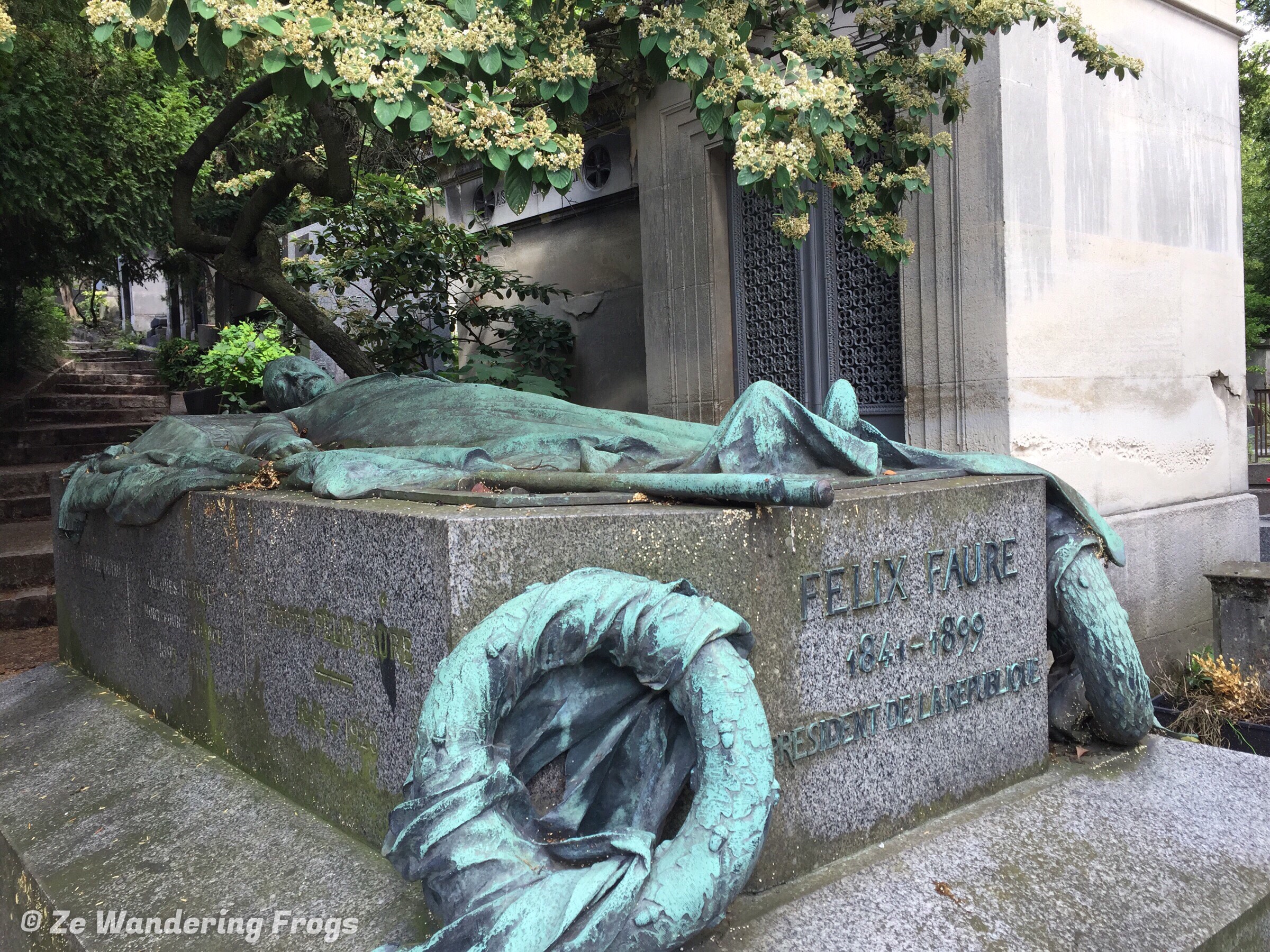 Père Lachaise Famous Graves
The cimetière du Père Lachaise requires several hours of your time to properly explore its grounds. As you search for the final resting place of our favorite author like Oscar Wilde or Colette, singers like Edith Piaf or Jim Morrison, public figures like Président Felix Faure, you will get yourself lost and found again several times over.
So hop over on the metro and enter the most famous Paris cemetery for an afternoon of exploration of the time past, and wander by many of these Père Lachaise famous graves.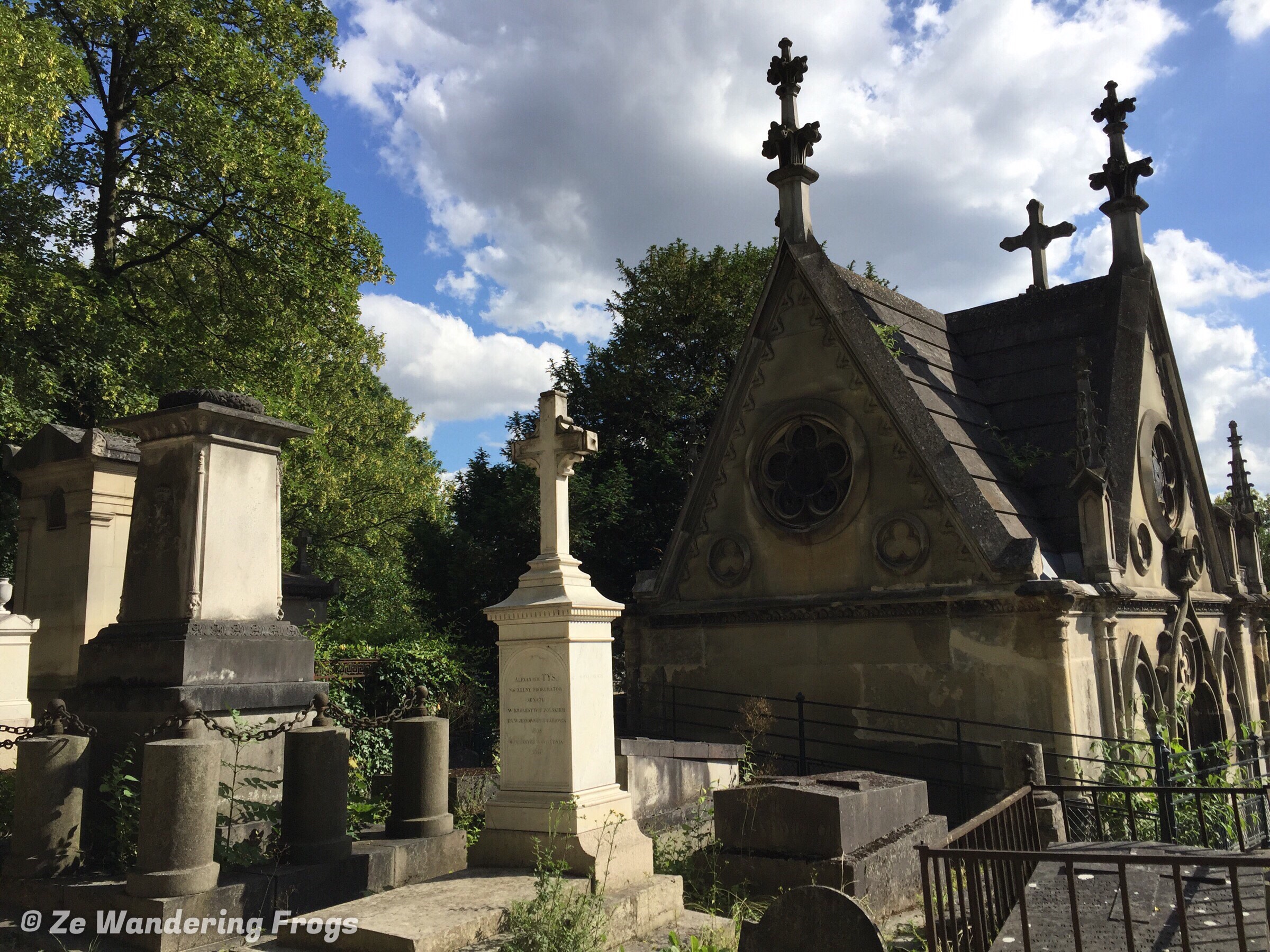 How to Visit Père Lachaise Cemetery 
You can easily discover the cimetière du Père Lachaise on your own. Or you can join one of the guided tours. Both have pros and cons, here are our thoughts.
Independently
Exploring the Père Lachaise by yourself gives you the freedom to explore at your leisure, taking the time to walk by and "get lost" through the park. Plus, since there is no entrance ticket to the cemetery, visiting the Père Lachaise can be considered one of the free things to do in Paris. Both reasons why we decided to visit by ourselves. Another reason is that being French ourselves, we could find some of the information more easily.
On the downside, you might spend hours trying to find the tombs you are looking for, and while guide books can give you some background about their eternal owners, a guide can provide interesting insights.
Père Lachaise Guided Tours
Guided tours offer visiting opportunities to either the cemetery alone or as part of a wider Paris sightseeing tour. Combine your visit to the Pere Lachaise with a tour of the Marais Quarter, maybe adding a food tour of the trendy neighborhood after you walk in the park.
A knowledgeable guide can provide incredible information and background details to each of the tombs you are visiting, making the tomb owners "alive" again.
Quartier du Père Lachaise
Where to Stay around Père Lachaise
The 20th arrondissement of Paris doesn't have a quarter name like La Cité or Le Marais have. The area is usually off the radar when it comes to stay but on the other end, it is the "real" Paris away from the touristy crowd. There, you will find restaurants where French people go eat, parks where French families go play. If you are looking for other cools places to stay nearby, check the Belleville and Ménilmontant neighborhoods, or even Le Marais quarter or La Bastille a little further away.
Paris is such a popular destination, don't wait to book your preferred hotel. While you will always be able to find a place to stay in Paris, waiting to the last minute might mean budget hotels or top-rated lodging will be booked out.
Here are some recommended hotels, all with top reviews:
Around Père Lachaise
By La Bastille:
Père Lachaise Cemetery Travel Tips
The park closes at 5 pm in Winter, and 6 pm in Summer
You can enter from one of the several gates
Entrance is free
The onsite map is somewhat confusing so do your research if you want to visit specific tombs
The location is on a flank of a hill, with some areas with stairs. The alleys are made of cobbled stones. This might not be suitable for strollers, or people with walking difficulties.
Double the time you initially allocated for that visit to fully appreciate the place
More Paris explorations include an evening stroll along the banks of the Seine River passing by the Eiffel Tower and Notre Dame Cathedral, a walk deep down the Paris Catacombs, and a stroll by the Canal St Martin, or admire la Sainte Chapelle stained glass windows. For trips outside Paris, make sure to visit Versailles Gardens, one of the most beautiful in Europe, or check the city of Clermont-Ferrand in Auvergne.
Stay tuned for more adventures
from our travel around the world!
Follow us now on
Facebook, Instagram, and YouTube. 
This post contains affiliate links, which means we receive a percentage if you make a purchase using these links – at no cost to you. Our opinions are our own and are not impacted by these partnerships.
ZeWanderingFrogs.com is a participant in the Amazon Services LLC Associates Program, an affiliate advertising program designed to provide a means for sites to earn advertising fees by advertising and linking to amazon.com, amazon.co.uk, amazon.ca. Amazon and the Amazon logo are trademarks of Amazon.com, Inc., or its affiliates.