The Appalachian National Scenic Trail (AT for short) is a 2,200-mile continuous path traversing up and over mountains and through meadows and farmland.
To "thru-hike" the Appalachian Trail, a hiker must hike the entirety of the trail within a 12 consecutive month period. For the average hiker, this feat takes between five and seven months. The Appalachian Trail hike is a treacherous long-distance trek, and only one in four prospective hikers reach their goal.
We welcome Greg Seymour to share his experience with this guest post.
Appalachian Trail By State: A Hiker Favorites
In all, Appalachian Trail hikers will travel through 14 eastern U.S. states, each with its own beauty, history, and allure for hikers. My wife and I completed a thru-hike in 2017 and below is a brief, clearly subjective, synopsis of what we enjoyed and found interesting about each state in the order a northbound hiker will experience them.
Appalachian Trail: Georgia
Photo Opportunity
Mountain Crossings at Neel Gap is a must stop for thru-hikers … literally. This section of the Appalachian Trail in Georgia goes through the property, so it really is not an option. Being the first resupply for the northbound hiker, Mountain Crossings is an outfitter, and they are happy to do a "shakedown" for you – go through each item in your pack to cull out heavy and unneeded items … and maybe sell you some new ones.
The tree outside the store pays homage to the hikers who have gone before, quit the trail right there, or at least bought new shoes. Dangling from branches are hundreds of shoes making the tree the subject of many photographs.
Fun Fact
Blood Mountain has the highest elevation on the Appalachian Trail in Georgia (4,460'). There is no firm knowledge of why the mount is named what it is. Prevailing thought speculates it was named for a bloody battle between the Creek and Cherokee Indians. As if that wasn't gory enough there is also a Slaughter Gap nearby.
Hiker Favorite
How can it not be the AT's southern terminus, Springer Mountain? Depending on which direction you are hiking the trail, Springer will either be the start of your epic journey or the last monumental mountain you summit. Either way, Springer elicits emotions when encountered or remembered.
Appalachian Trail: North Carolina
Photo Opportunity
When you are hiking 2,200 miles, smaller milestones are incredibly important. Albert Mountain on the Appalachian Trail in North Carolina is one such milestone. The northbound hiker arrives at Albert Mountain after trudging precisely 100 miles on the Appalachian Trail. Not only is the mount a milestone, but the view is also incredible. Climb the fire tower for an awe-inspiring 360-degree overlook.
Fun Fact
What is the highest point on the AT? Without specific knowledge, one might guess that mountain resides in New Hampshire or Maine. Oddly enough, that claim to fame belongs to Clingman's Dome in Great Smoky Mountains National Park in North Carolina. The height of Clingman's Dome along the Appalachian Trail is 6,625 feet. A short side trail takes you to the summit and observation tower, which is at 6,643 feet.
Hiker Favorite
Hikers are simple creatures and require very few things for comfort on a day-to-day basis. However, when they arrive at an area that allows luxuries such as a shower, ability to do laundry and charge their phones, and access to food and beer, they are in heaven.
Sarcastically named the Fontana Hilton, the AT shelter on Fontana Lake has everything a hiker could want, and many of its amenities are free (shower, phone charging, sleeping with a view of the lake). Just a short shuttle ride from the Hilton is Fontana Village that provides hikers a restaurant, laundry facility, and general store for food resupply.
Appalachian Trail: Tennessee
Photo Opportunity
Good 'o Rocky Top Mountain (yes the one from THAT song) has a beautiful view of the surrounding mountains.
Fun Fact
The Tennessee Appalachian Trail travels over 70 miles in Great Smoky Mountains National Park. These miles follow the border of Tennessee and North Carolina, and unless there is a well-known landmark, it is unlikely hikers will know which of the two states they are.
Logging 11.3 million visitors in 2016, GSMNP is the most visited national park out of 59 in the U.S., and while very few of those visitors are thru-hikers, there are rules in place for everyone. Each Appalachian Trail hiker will need a thru-hiker permit, which can be printed up to 30 days prior to entering the park. The permit is good for up to only eight days in the park and while in GSMNP thru-hikers are required to sleep in the provided shelters.
Hiker Favorite
Most thru-hikers have a hard time saying no to food that is not trail-food and a cold beverage; it's why so many of my "hiker favorites" are food and town related. Enter Gatlinburg, Tennessee a very touristy, theme-park-like town just a short hitchhike from the trail. Here the thru-hiker can attempt to replace some of the calories missing from their diet and maybe pick up some moonshine to help warm them up at night.
Appalachian Trail: Virginia
Photo Opportunity
McAfee Knob is arguably the most photographed location on the entire Appalachian Trail. The iconic photo of a hiker sitting on a rock slab seemingly suspended hundreds of feet in the air is one few hikers can pass up. Get there early in the morning to catch the sunrise.
Fun Fact
The Appalachian Trail in Virginia covers the most miles of any of the 14 states along the trek. In fact, the state hosts almost one-quarter of the trail (around 550). Since the state takes so long to get out of many hikers experience what's called the Virginia Blues.
Hiker's Favorite
Hiking through Shenandoah National Park. This section of the Virginia Appalachian Trail parallels and bisects Skyline Drive for over 100 miles. The terrain is more moderate than previous sections giving thru-hikers a break. In addition to the terrain is the frequency of camp stores and waysides where weary walkers can grab a blackberry shake or burger. If all these things weren't enough for our trekker, it is likely they will see a bear when traversing through the park – a sight most thru-hikers want to experience.
Appalachian Trail: West Virginia
Photo Opportunity
The Appalachian Trail Conservancy is headquartered at Harpers Ferry, West Virginia. Considered the "psychological halfway point" the small town is not quite halfway for the northbound hiker and more than halfway for the southbound thru-hiker. Still, it is tradition to have your photo taken at the conservancy by staff to include in that year's hiker album.
Fun Fact
Harpers Ferry sits at the confluence of the Potomac and Shenandoah rivers. The town is best known for the raid on the armory by John Brown in the American Civil War. The AT cuts through the town, and there are many historic buildings along the route.
Hiker Favorite
The roller coaster is a problematic 13.5-mile section of trail that starts in Virginia and ushers the northbound hiker into West Virginia.  So named because of numerous and tightly packed ups and downs.
Appalachian Trail: Maryland
Photo Opportunity
There are two good overviews on the Appalachian Trail in Maryland: Annapolis Rocks with a view of the Cumberland Valley, and Weverton cliffs which overlooks the Potomac.
Fun Fact
Maryland is a relatively easy 40-mile section of trail. Most hikers breeze by it without much fanfare.
Hiker Favorite
The Maryland Challenge or 4-State Challenge are popular extracurricular challenges thru-hikes impose on themselves. Whether traveling northbound or southbound, thru-hikers have built muscle and stamina by the time they hit Maryland. Many like to take their hard-earned hiking prowess out for a spin with a test. Hike all of Maryland (40'ish miles) in 24 hours, known as the Maryland Challenge, or start at the Virginia/West Virginia border and hike through Maryland ending in Pennsylvania. This adds 7 or so miles but lets you say you were in 4 states in 24 hours.
Appalachian Trail: Pennsylvania
Photo Opportunity
Lehigh Gap and views from the Super Fund clean-up site. Yes, you heard right, the trail goes through an area that was contaminated from years of zinc mining. This part of the Appalachian Trail in Pennsylvania has since been cleaned up, but the trail goes up over a mountain of rocks and boulders in the affected area. As you climb, you get an incredible view of the valley below.
Fun Fact
Pennsylvania gets talked about well before a hiker hits it and for miles (and states) afterward. For the uninitiated, the Pennsylvania Appalachian Trail forces hikers to walk miles and miles over many days on ankle twisting, sole crushing rocks. It seems never-ending, and many pairs of shoes meet their fate in Pennsylvania.
Hiker Favorite
Whereas Harpers Ferry is the psychological halfway point of the AT, Pennsylvania hosts the literal midway mark. Specifically, Pine Grove Furnace State Park where they celebrate the feat with … you guessed it … a food challenge. Eat a half-gallon worth of ice cream and earn a cheap wooden spoon and, more importantly, bragging rights.
Appalachian Trail: New Jersey
Photo Opportunity
The 1.5-mile Pochuck Boardwalk takes the hiker over swampland and a natural wildlife preserve. Look for a variety of birds flittering in and out of the grasslands.
Fun Fact
As strange as it may sound the black bear population in New Jersey is one of the most robust along the entire AT. Two of the four bears we saw on our thru-hike were in New Jersey. We had just crested a mountain and saw some bushes rustling, and two juvenile black bears emerged. Confused at seeing us they first ran directly towards us then veered off into the scrub.
For those who missed out on seeing a black bear in the Great Smoky Mountains or Shenandoah National Park, New Jersey offers a great opportunity.
Hiker Favorite
Both New Jersey and New York are covered in blueberry bushes. It is terrific to be hiking along the trail and grabbing breakfast as you go.
Appalachian Trail: New York
Photo Opportunity
Although hiking the Appalachian Trail in New York seems remote it is only about 30 miles as the crow flies from Manhattan. This is apparent on a clear day as the New York City skyline can clearly be seen from the trail at Black Mountain.
Fun Fact
At Bear Mountain in New York two odd things happen simultaneously: not only does the hiker experience the lowest elevation on the AT (124 feet), they also walk through a zoo. Yep, the AT path goes right through The Trailside Museum and Zoo at Bear Mountain. There is also a huge swimming pool if hikers want to take a swim. And, who can forget food? Vending machines abound.
Hiker Favorite
Yes, I know …. hiker favorites often center around food. This is indeed true in New York where the trail frequently passes close to a deli. Deli Blazing (hitting all the delis a hiker can) is a fun pastime while hiking through the state.
Appalachian Trail: Connecticut
Photo Opportunity
There are 50 plus miles of trail in Connecticut, and most of those miles follow a ridgeline above the Housatonic River Valley offering excellent photo opportunities.
Fun Fact
Connecticut is the first New England state the northbound hiker will encounter.
Hiker Favorite
Sharon, Connecticut is a popular resupply town, and visitors may see a celebrity. Many famous people have homes nearby including Kevin Bacon and Meryl Streep.
Appalachian Trail: Massachusetts
Photo Opportunity
Just before Mt. Greylock (northbound), there is a picturesque pond with a small cabin on its shore. The photo I took of this unnamed pond became one of my favorites of the entire trek.
Fun Fact
Mount Greylock, one of Massachusetts' summits along the AT, is said to have provided Hermann Melville's inspiration as he wrote his classic Moby Dick. His study looked out on the mountain, and its winter white mass became the idea for the famous white whale.
Hiker Favorite
On the Appalachian Trail in Massachusetts, there is a very special shelter. All along the AT there are 3-sided lean-to's that provide sleeping provisions for weary hikers. They are all basic and sparse, that is except Goose Pond Shelter, MA. This shelter is nestled on a lake and has a caretaker. Not only is there a caretaker, an oddity for sure, but the custodian also makes pancakes for breakfast each morning of the hiking season. If that weren't enough, there are canoes and kayaks for hikers to take out as well.
Appalachian Trail: Vermont
Photo Opportunity
One of the exciting sights a thru-hiker sees when walking through the 150 miles of the trail in Vermont are the maple trees tapped for sap collection. Plastic tubing is strung from tree to tree so that the precious commodity can be collected and turned into syrup or delicious candy.
Fun Fact
The Long Trail is the oldest long-distance trail in the United States. The path is 272 miles long, starting in Vermont at the Massachusetts border and ending at the Canadian border with the state. The Long Trail coincides with the Appalachian Trail for 100 of its miles.
Hiker Favorite
In addition to food, hikers love to be able to cool down and get (a little bit) cleaner. Thankfully the Vermont Appalachian Trail has a ton of swimming holes, both ponds, and rivers. Also, because of when most thru-hikers start their trek, the majority hit Vermont during the hot summer months.
Appalachian Trail: New Hampshire
Photo Opportunity
The New Hampshire Appalachian Trail has some of the most rugged terrains in North America. Tough climbs lead to fantastic views and the thru-hikers time in New Hampshire provides some of the most picturesque scenes on the entire trail. And the best of the best? That would (arguably) be Franconia Ridge, an exposed ridgeline that offers tremendous views for miles.
Fun Fact
Mount Washington, one of the mountains in the White Mountain presidential range every thru-hiker must summit, has the worst weather in America. In fact, the second highest land speed wind record was set on Mount Washington. The weather observatory on top of the mountain has a YouTube channel, and they post hilarious (or scary) videos demonstrating the weather that can be experienced there.
Hiker Favorite
Hanover, New Hampshire is home to Dartmouth College and is a must-stop town for the thru-hiker. The businesses and citizens of Hanover really spoil hikers. We have mentioned how important food is to the hikers; well Hanover restaurants understand this and most of them offer free food for thru-hikers. It might be a free slice of pizza from the Italian restaurant or a pastry from the diner, whatever the treat, hikers eat it up.
The citizens also play a part in promoting a welcoming atmosphere for trekkers. Being an Ivy League town, Hanover is not cheap and affordable accommodations are not to be had for hikers. Many townies open up their homes to host a hiker for a night. A list of these "trail angels" is located at hostels before the town, at the post office, library, and local hiking clubs.
Maine Appalachian Trail
Photo Opportunity

Like Springer Mountain in Georgia, Mount Katahdin is either the beginning of an incredible journey or more likely, the culmination of almost 2,200 miles hiked. Reaching the sign at the summit can be an emotional experience, and that photo of a hiker standing on the sign with arms raised in triumph is a precious memento of the feat.
Fun Fact
The official way to cross the Kennebec River, the widest unbridged river on the AT, is via a canoe. There is a ferryman posted to paddle hikers across during the hiker season. Many deaths have occurred from hikers attempting to ford the river on this part of the Appalachian Trail in Maine.
Hiker Favorite
Mahoosuc Notch in the southern Maine portion of the Appalachian Trail is considered by thru-hikers as either the toughest or most fun section of the entire trek. This mile-long stretch is a boulder-strewn maze where hikers must navigate the best route. It could be a sheer 10-foot drop or maybe a crevasse that can only be entered by taking one's backpack off; regardless, the multiple obstacles slow even the most adept hiker to a crawl.
There you have it, a snippet of each of the 14 states an Appalachian Trail thru-hiker will walk through. With almost 2,200 miles of trail, there are so many incredible wonders to see and experiences to be had. So, get out there and start hiking.
Guest Post Author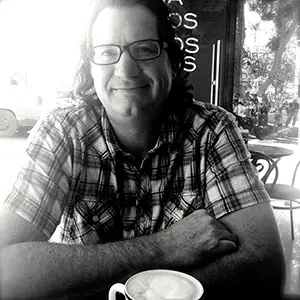 Greg Seymour is a quitter. In 2013 he and his wife Jen left the "earn more, spend more" grind of corporate America to live a more simple yet fulfilling life chockfull with adventures. He is the author of two popular books on Costa Rica and recently co-wrote a book with Jen about thru-hiking the Appalachian Trail.
In addition to hiking and writing, Greg enjoys dreaming up the next adventure and scaring his wife in the process.  You can find him on his blog Chica and Sunsets or social media on Facebook or YouTube.
Appalachian Trail Guide FAQs
See below some of the most asked questions about the Appalachian Trail:
How long is the Appalachian Trail?
The Appalachian Trail mileage is 2,181 miles, the longest continuously marked trail in the world.
How long does it take to hike the Appalachian Trail?
The trail takes between five and seven months.
Where is the start of the Appalachian trail?
You can start at either Mount Katahdin in Maine or Springer Mountain in Georgia.
What is the average miles per day on Appalachian Trail?
Many thru-hikers start with 8 to 10 miles per day and can reach 12 to 16 miles as they strengthen their hiking legs.
Are permits required to trek the Appalachian Trail?
No permit to walk the AT is necessary, but some states, camping sites, and wilderness areas require permits and have specific regulations.
What is the highest point on the Appalachian Trail? 
Clingmans Dome, in the Great Smoky Mountains National Park on the North Carolina and Tennessee border, seats at 6,643 feet.
What would hiking the Appalachian Trail cost? 


The Appalachian Trail Conservancy suggests planning for $1,000 per month 

Are there any Appalachian Trail hostels?
It depends on which section of the AT you are hiking. Some sections have hostels, other not and will require camping on the trail
What gear do I need to trek? 
Check out our list of trekking gear for reference
What Appalachian trail map do I need?
Pick your map of the Appalachian Trail depending on the state you are trekking:
Pick Your Appalachian Trail Books
[amazon_link asins='1935597191,B01BL1RRRA,1597755400,1889386944|B012HV1QSE,1889386944,1597755400,0847839036|0847839036,B003JMFKRE,1566957672,0692556362|B01K3IBRLE,1597755672,B003JMFKRE,B071VX7KLL' template='ProductCarousel' store='zewanfro-20|ukzewandering-21|canzewanderin-20|ukzewanderi09-21′ marketplace='US|UK|CA|FR' link_id='b758843a-cc88-11e8-b0f3-a18b1e9e7d34′]
Follow us on our world trip on
Facebook, Instagram, and YouTube. 
ZeWanderingFrogs.com is a participant in the Amazon Services LLC Associates Program, an affiliate advertising program designed to provide a means for sites to earn advertising fees by advertising and linking to amazon.com, amazon.co.uk, amazon.ca. Amazon and the Amazon logo are trademarks of Amazon.com, Inc. or its affiliates.
You like this article? Please share and spread the love!