Thank you El Niño for finally sending good snow to the Sierra Nevada! The mountains are finally wearing their white mantel and the fresh powder is heaven for cool snowboarding!
We headed to Diamond Peak on that Saturday morning, excited to finally hit the slopes with proper snow. It has been three long dry years where rocks and bushes were common grounds, and we missed the snow and the rush of the slopes dearly.
Snowboarding at Diamond Peak Ski Resort
Diamond Peak is a smaller resort tucked further away from the main town hubs of North Lake Tahoe that Tahoe City and Truckee but located right in Incline Village where we were staying with friends. Time to try the local spot!
As we entered the parking lot, we were happily surprised to see there were only a few cars. We usually go to bigger resorts like Northstar or Kirkwood and you need to be there at the crack of dawn to get a decent parking spot. A small resort has its perks: less visited, fewer cars!
Another major perk is that there is almost no waiting time at the lift: we were up the mountains in no time and were really appreciative how quickly we went from the car to the top! And down we were, snowboarding on fresh powder, enjoying the smooth feel as we glided on the white gold.
The slopes are not as long as some of the other Lake Tahoe resorts but they are wide and have plenty tree opportunities for a change of terrain. The Crystal Ridge run offers fantastic views of Lake Tahoe and on a sunny day, the reach is amazing.
The resort had left a few black diamond slopes ungroomed and I went down Battle Born with a big smile on my face! Bruno enjoyed the tree section even more so, the powder totally untouched. As an expert snowboarder, Bruno explored the Glades, Thunder and went further to the Solitude Canyon by the resort boundaries.
On my end, as it was our second snow trip and being somewhat out of shape, I did not feel like I should venture yet in the trees. I was getting back on the slopes, working on my turns and speed (or lack of), and probably needed to review my snowboarding stance as well. I like trees, I like the powder in the trees but I don't necessarily like too close of an encounter.
How to get there
From San Francisco Bay Area, take direction to Truckee on Highway 80. After reaching Truckee 4-5 hours later (depending on traffic, weather and road conditions), turn onto Road 267 for another 30 minutes to Kings Beach, then bear left on Road 23 to Incline Village, Nevada, just 15 minutes away. From Reno, drive down highway 580 then onto road 431 to Incline Village.
Where to stay
Incline Village is right by the resort and offers plenty lodging. Since the town is Nevada side, casinos also offer accommodations. Otherwise, Kings Beach on the California stateside, just 15 min and 8 miles away, is also a good option
How to get your tickets
Diamond Peak Ski Resort has probably the most affordable lift tickets around Lake Tahoe at $69 full day for an adult. Their season pass costs $449 but a new Transferable Flex Pass (previously called Mini Pass) that let you ski 7-day any day of the season for $294.
REI offers adult day tickets for $59, which is what we bought.
Sign-up to our newsletter to receive the new posts on our adventures on our round-the-world trip! Or follow us on our trip and adventure travel via Facebook, Instagram, YouTube.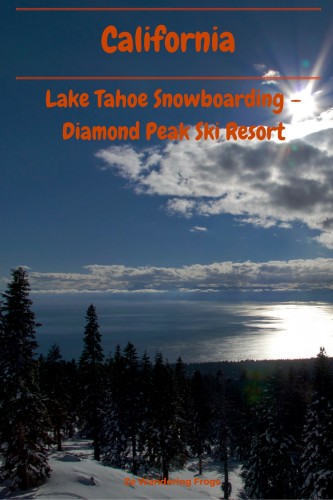 This post contains affiliate links, which means we receive a percentage if you make a purchase using these links – at no cost to you. Our opinions are our own and are not impacted by these partnerships.
ZeWanderingFrogs.com is a participant in the Amazon Services LLC Associates Program, an affiliate advertising program designed to provide a means for sites to earn advertising fees by advertising and linking to amazon.com, amazon.co.uk, amazon.ca. Amazon and the Amazon logo are trademarks of Amazon.com, Inc. or its affiliates.